Jorge Who?
As has been noted in the past during hiatuses from this site in times of travel, one of the most difficult things, apart from recovering my physical strength after a journey of the sort that I made with impunity forty years ago, to do upon our return is to resume writing about Jorge Mario Bergoglio, aka The Argentine Apostate. After all, what more is there really left to say about this dime-store, run-of-the-mill 1970s-style lay Jesuit revolutionary that has not been said hundreds of times before?
Indeed, the whole conciliar enterprise is showing itself to be such a transparent agent of paganism that even some "conservatives" who believe, quite mistakenly, that it is the Catholic Church are retreating further and further away from holding anything resembling a Catholic understanding of the indefectibility of Holy Mother Church and the papacy as a guarantor of Catholic orthodoxy. Those Catholics who are on the periphery of the counterfeit church of conciliarism, either because of abject indifference to the Holy Faith altogether or a nominal adherence to it, pay little or no attention to the Great Apostasy that is before our very eyes.
This is important to remember as those of us, through absolutely no merits of our own, who have come to realize that the See of Saint Peter has been vacant since the death of Pope Pius XII on October 9, 1958, live in a microscopically small universe whose existence is unknown to almost everyone God's Holy Providence places in our paths. We deceive ourselves if we think that lots and lots of Catholics are paying any attention at all to Amazonia Jorge's Hijinks, although it is still important nevertheless to pray that more will do so and come to the only logical conclusion that the conciliar church is but the counterfeit ape of the Catholic Church and that its officials are agents of Antichrist even though, perhaps, they may not realize that they are.
These realities came to mind when I attended my high school class's fiftieth graduation anniversary on Friday, June 14, 2019, Whit Friday and the Commemoration of Saint Basil the Great, on Long Island. While I was truly glad to see the group of fifty classmates who attended and enjoyed spending time visiting with them, I was struck by the fact that no one was at all cognizant of the dizzying acceleration of the conciliar church's logical degeneration into a caricature of itself. Classmates talked about their families and what they had been doing since the last reunion twenty-four years ago. However, there was no discussion of contemporary events in the world nor in the conciliar sect.
Jorge Who?
Mind you, this is not a condemnation of anyone but a simple statement of the fact that most people, Catholics or non-Catholics alike, are paying no attention to the events that are unfolding at lightning speed within the confines of the out-of-control train wreck that is the counterfeit church of conciliarism.
Although those who know me know that I am no wilting wallflower, I was content to be relatively silent other than to inquire about my classmates' families and their own whereabouts these days. Several of those who attended the reunion belonged to my brother's class of 1971, and they asked about him. This does not mean that I did not talk about the Holy Faith. Of course not, as I tried to supernaturalize my discussions with several classmates who had commented about how I had been the object of a good deal of ridicule in high school for not going along with trends of the time between 1965 and 1969. This provided me with the opportunity to explain that nothing any of us can suffer in this passing, mortal vale of tears is the equal of what one of our least Venial Sins caused Our Blessed Lord and Saviour Jesus Christ to suffer in His Sacred Humanity during His Passion and Death on the wood of the Holy Cross on Good Friday to redeem us, a redemptive act in which His Most Blessed Mother participated perfectly as the Queen of Martyrs and our Co-Redemptrix. Our sins deserve to be chastised, and it is always the case that the infinite wisdom and perfection of God's Holy Providence is for our own good even when we suffer that which might be unjust in the human order of things.
Who am I to complain about what others might have said about or done to the in the past or what anyone may be saying or doing to me now as my sins, having transcended time, have been responsible for mocking, reviling and torturing Our Divine Redeemer, He Who is the very Second Person of the Most Blessed Trinity made Man by the power of God the Holy Ghost in the Virginal and Immaculate Womb of His Most Blessed Mother? I deserve to be chastised and to be brought low in the sight of men. Deo gratias! So, yes, of course, I talked about the Holy Faith and assured those with whom I spoke of my prayers.
However, not one person at my class's reunion mentioned the name of Jorge Mario Bergoglio even once.
No one mentioned the upcoming travesty that is the Amazonian "synod."
No one mentioned anything about the vast panoply of "conservative," "semi-traditional" or traditional websites or the subjects discussed thereon. No one mentioned a word about the Immemorial Mass of Tradition.
In other words, the cross-section of people present, who came from a variety of socio-economic backgrounds (including at least one successful attorney, an accountant, a psychologist, several teachers, a social worker, several businessmen and entrepreneurs, a retired state legislative aide, a lobbyist for the concrete industry, a physician and one unemployable former college professor of political science) as well as those who have held blue collar jobs most of time since graduation fifty years ago, was fairly representative of the population of the United States of America at this time in the latter part of the second decade of the Twenty-first Century.
The reunion thus served as a reminder of the fact that most people in the world today, although they are affected by the madness of conciliarism whether or not they know it, are totally oblivious to the internecine battles that fought on a daily basis by believing Catholics over whether a known heretic and blasphemer, Jorge Mario Bergoglio, is a true and legitimate Successor of Saint Peter. Most people are busy with their own work lives and families. Many others are diverted by their bread and circuses, and they like it that way. Indeed, even "traditionally-minded" Catholics—none of whom were present at the reunion—who are attached in some manner or another to the heresiarch at the Casa Santa Marta by assisting at Masses that are staged or offered "una cum famulo tuo Papa nostro Francisco" constitute but a very tiny fraction of Catholics worldwide.
The "universe" of our "reach," therefore, is not as wide as might delude ourselves into thinking sometimes in the midst of all of the outrages emanating from inside the walls of the Occupied Vatican on the West Bank of the Tiber River or elsewhere in the world Jorge happens to go as he presages spiritual, moral and even physical disasters in his sorry wake. This does not mean, of course, that we must not be concerned about the apostasies that beset the Church Militant now, only that we must understand that one of the devil's greatest tools at present is the fact that most people in the world are not paying attention to Jorge Mario Bergoglio Bergoglio and his fellow revolutionaries, which makes their advance of evil all that much more dangerous.
This having been noted, we should also keep in mind that those of our fellow Catholics who do not understand, no less accept, the true state of the Church Militant in this time of apostasy and betrayal are operating under a handicap as there is a paucity of Sanctifying Grace in the Roman Rite of the counterfeit church of conciliarism. While there are true priests, mostly in their late-seventies or older, who offer the Immemorial Mass of Tradition, most of the clergy in the Roman Rite of the conciliar sect are non-ordained presbyters who do not offer true Masses, whether that of Tradition or the Protestant and Judeo-Masonic Novus Ordo liturgical service.
Although Catholics born before the promulgation and then the implementation of the invalid conciliar rites of episcopal consecration or supposed priestly ordination have the graces of their Confirmation, most Catholics alive today, including those Catholics "confirmed" in the traditional rite by a conciliar non-bishop, have never been confirmed as soldiers in the Army of Our Blessed Lord and Saviour Jesus Christ. Most Catholics today only have the graces of their Baptism. Those in a valid marriage, of course, have the graces of the Sacrament of Matrimony, which they administer to each other, meaning that, lacking the Sanctifying Graces of the Holy Eucharist and a true sacramental Confession of their sins, it may be harder for them to see and admit the truth of our situation. As one who took far too long to see the truth, I know that there were many people praying for me to cooperate with the graces that Our Lad was sending. We must do the same for our fellow Catholics today as pray also for the conversion of all non-Catholics to the true Catholic Faith that has been eviscerated by the conciliar revolutionaries.
Despite all of Jorge Mario Bergoglio's endless blasphemous and heretical verbiage that he uses to advance his revolutionary agenda while endorsing, participating in and smiling during the most hideous spectacles of vulgarity, indecency and lewdness, there is nothing really new in any of what the Argentine Apostate is doing and/or saying. Even the upcoming Amazonia synod is nothing other than a fulfillment of what dime-store Jesuit revolutionaries were discussing, at least amongst themselves if not more publicly, as early as the 1970s.
To be sure, a believing Catholic should be outraged and disgusted by the fact that "Pope Francis" has given a reliquary containing relics of our first pope, Saint Peter, to a bishop of the heretical and schismatic Greek Orthodox church, thus signifying that there is a bond between the heretics and Catholics. Well, actually, this is true in a sense as there is a common bond of kinship between the heretics who lead the counterfeit church of conciliarism and their heretical and schismatic counterparts in the various warring sects known collectively as the Orthodox churches. However, this is not the first time that a conciliar "pope" has committed such an outrage. Giovanni Battista Enrico Antonio Maria Montini/Paul VI did so on a number of occasions.
Although not the progenitor of conciliarism, Montini/Paul VI was one of its principal architects and its first antipapal guiding force. The sodomite who had distinguished himself in the Secretariat of State by betraying Catholic priests behind the Iron Curtain to agents of the Union of Soviet Socialist Republic during the pontificate of Pope Pius XII because of KGB's blackmailing of him and who knuckled under to the blackmail of Freemasons to give "papal" sanction to cremation on May 8, 1963, used a number of opportunities that symbolized the simple fact that he was heading a new religion, one that was rejecting the doctrines, liturgy and traditions of the Catholic Church just as surely as every other heretical sect had done in the past.
One of Montini's/Paul VI's first symbolic acts during the "Second" Vatican Council was to remove his conehead shaped tiara (Montini loved innovation in everything), thereby symbolizing the end of papacy as a monarchy and the rise of "episcopal collegiality," which Jorge Mario Bergoglio is simply taking to its logical conclusions of resembling the federation that is the heretical sect known as the Anglican Communion where the governing body (Rome for the conciliarists, Canterbury for the Anglicans) has a merely consultative role as each member unit decides doctrine, liturgy, moral teaching and pastoral practice on its own. Montini/Paul VI knew what he was doing on Friday, November 13, 1964, by tying the rejection of Papal Primacy with a need to feed the poor by means of the gold from his tiara.
Although the tiara sits as a museum piece in the crypt church of the National Shrine of the Immaculate Conception in Washington, District of Columbia, and was not melted down to provide money with which to feed the poor, the fact that it sits as a museum piece is itself an inadvertent testimony to the abandonment of Catholicism that was about to be highlighted doctrinally in Lumen Gentium, Saturday, November 21, 1964, the Feast of the Presentation of the Blessed Virgin Mary:
Beginning in the 8th century, the papal tiara — a jewel-encrusted, ornately decorated three-tiered, conical crown — was the symbol of papal authority. Worn by new popes on the occasion of their coronations and other solemn occasions, the headdress represented the Bishop of Rome's ascendancy over earthly kings and queens.
On November 13, 1964, Pope Paul VI, breaking with tradition, donated his jewel-covered gold and silver three-tiered tiara to the poor at a ceremony at St. Peter's Basilica, making him the last pope to wear the ceremonial crown.
Following a Mass, attended by 2,000 bishops, the pope rose from his chair and solemnly placed his tiara on the altar. According to news accounts at the time, Pope Paul VI was said to have been moved to make the gesture by discussions of world poverty during meetings of the Ecumenical Council Vatican II.
After the announcement that the papal tiara would be sold at auction, Cardinal Francis Spellman of New York City arranged for the tiara to come to the United States, as a gift acknowledging the generous contributions by American Catholics to helping the world's destitute.
Following a tour accross the country as part of an exhibition put on by Catholic Relief Services, the crown went to its permanent home where it is now on display in the Basilica of the National Shrine of the Immaculate Conception in Washington, DC.
Since Paul VI gave up the tiara, none of his four successors have worn one. Pope Benedict XVI, in fact, had the image of the tiara removed from the papal coat of arms, substituting it with a more humble bishop's miter.
In 1978 Pope John Paul I went a step further, and replaced the coronation ceremony with a Mass for the inauguration of the pope, a tradition that Popes John Paul II, Benedict XVII and Francis continued.
In his homily marking his inauguration ceremony, Pope John Paul II recalled his predecessor's abandonment of the tiara and his wish to follow suit:
"Pope John Paul I, whose memory is so vivid in our hearts, did not wish to have the tiara; nor does his successor wish it today. This is not the time to return to a ceremony and an object considered, wrongly, to be a symbol of the temporal power of the popes." (The Day the Antipope Paul VI gave up his tiara.)
How many of us alive at the time (I was eleven days away from turning thirteen years of age) remember Giovanni Battista Enrico Antonio Maria/Montini/Paul VI's supposedly impromptu gesture?
I don't.
Some of us were still ruing the results of the November 4, 1964, election of President Lyndon Baines Johnson to a full four-year term, knowing that this would result in a vast increase in Federal government taxation, spending and power. Johnson had spelled out his plans for his "soft" socialism in his January 8, 1964, State of the Union address that declared a "war on poverty" (poverty won, by the way, as the only ones who were enriched by the "war on poverty" were the government bureaucrats and administrators of their "not-for-profit" nongovernmental recipients) and had told us in a campaign speech on May 7, 1964, in Athens, Ohio, that he was going to build the "Great Society." The signs were ominous.
Ah, but how many Catholic paid attention to what Montini/Paul VI did on November 13, 1964?
Well, I may have seen something about in The New York Herald Tribune or the Huntley-Brinkley Report. Maybe. Not many Catholics were paying attention then, though, just as not many people are paying attention now to the fact that Jorge Mario Bergoglio is completing the work of the destruction of the remaining vestiges of Catholicism in its false religious sect despite the fac that there is instantaneous coverage of everything the apostate in white says or does. Sadly, not even many Catholics care about Jorge Mario Bergoglio is doing even though the reports of his mendacity are readily available to those who are interested. That's the key, of course. Very few people are interested.
Jorge Who?
No, my fellow classmates are far from alone paying no attention to the man most people in the world think is "Pope Francis" as he goes about his daily work of disparaging, defiling, deconstructing and demolishing the Holy Faith and those who hold to Its immutable tenets.
Bergoglio, however, is, as I have explained so many times before in the past nearly seventy-six months, simply ripping off the mask that has covered the true intentions of the Jacobin/Bolshevik revolutionaries at the "Second" Vatican Council. Many of his own "innovations" have simply built upon those of his predecessors in the antipapal seat of apostasy that will be held in the future by Antichrist himself.
Remember, the supposed "restorer of tradition," Joseph Alois Ratzinger/Benedict XVI, not only followed the example of his two immediate antipapal predecessors (Albino Luciani/John Paul, Karol Josef Wojtyla/John Paul II) in refusing to be crowned as a putative Successor of Saint Peter, he went so far as to take the tiara off of his "papal" coat of arms. Ratzinger/Benedict even created yet another "novelty" by creating what he meant to institutionalize, the office of "emeritus pope" when he announced his resignation on Monday, February 11, 2013, the Feast of the Apparition of Our Lady of Lourdes, that became effective on Thursday, February 28, 2013, at 8:00 p.m., Rome time.
Those who continue to be nostalgic about the protégé of the great Hegelian, Hans Urs von Balthasar, and who refuse even to believe that he, Ratzinger/Benedict understood what he was doing when he resigned and that he recognizes Jorge Mario Bergoglio as "Pope" Francis do not want to face the fact that Jorge and Ratzinger are as one in believing that the Old Covenant was not superseded by the New and Eternal Covenant instituted by Our Blessed Lord and Saviour Jesus Christ on Good Friday and ratified by the shedding of every single drop of His Most Precious Blood on the wood of the Holy Cross on Good Friday. They are as one in being serial violators of the binding precepts of the First and Second Commandment as they have entered into temples of false worship, esteemed the symbols of false religions and praised both their adherents and their false beliefs as being contributors to "peace" and "understanding."
None of the conciliar "popes" have believed that the Catholic Church is the sole means of human salvation. Each has embraced and propagated errors such as dogmatic evolutionism, the new ecclesiology, episcopal collegiality, Modernist scriptural exegesis and have presided over liturgical travesties that are so egregious that would have caused the Arians themselves to be ashamed and embarrassed. They have been heretics to a man.
Yet it is that most people alive today pay no attention to any of this as they live and die without any true understanding of First and Last Things. This does not make us one whit better, of course, as those of us who understand the Faith are expected to provide an example to those who do not, and it is the sad truth that many of us, myself included most especially, have failed in this regard, leaving us with little credibility in the eyes of unbelievers. We have a great responsibility before the Divine Judge, Our Blessed Lord and Saviour Jesus Christ, to show forth an integrity of life to those who are eager to look for some chink in us that they can use, however speciously, to blame the Faith for what are our own faults, failings and sin, our own refusal to reform our lives in cooperation with the graces He won for us during His Passion and Death and that flow into our souls through the loving hands of our Lady, she who is the Mediatrix of All Graces.
Even though most people we meet are not paying attention to the events in the counterfeit church of conciliarism even inchoately, no, not even when the "pope" is accused of hiding pedophiles even within the walls of the Occupied Vatican on the West Bank of the Tiber River, we cannot follow their example of indifference. While it is not necessary always to descend into the details (I refuse to do any further parsing of conciliar working documents that are robotic cut-and-paste jobs from the writings of Bergoglio and his fellow Jacobins/Bolsheviks), it is important for us to make reparation for the offenses that are given to God and the incalculable harm that is done to souls by the conciliar revolutionaries on a daily basis. Additionally, we must pray very fervently for a true pope to be restored to the Throne of Saint Peter.
A true pope is our sure guide on our journey home to Heaven. He is the Vicar of Our Blessed Lord and Saviour Jesus Christ on earth and is the Visible Head of the true Church that Our Lord founded upon the Rock of Peter, the Pope.
It is the duty of a true pope to guide the Barque of Peter on the high seas. Holy Mother Church is the spotless, virginal mystical spouse of Our Lord, Who is her Divine Founder, Invisible Head and Mystical Bridegroom. A true pope knows that he has the responsibility to advance the salvation of every person on the face of this earth, Catholic and non-Catholic alike, and that he will be judged by the One Whose vicar he is, Christ the King, accordingly.
This is something that Pope Pius IX understood with great clarity as he exhorted Protestants to respond to the entreaties of his own paternal heart to return to the true Church, outside of which there is no salvation and without which there can no true social order:
It is for this reason that so many who do not share 'the communion and the truth of the Catholic Church' must make use of the occasion of the Council, by the means of the Catholic Church, which received in Her bosom their ancestors, proposes [further] demonstration of profound unity and of firm vital force; hear the requirements [demands] of her heart, they must engage themselves to leave this state that does not guarantee for them the security of salvation. She does not hesitate to raise to the Lord of mercy most fervent prayers to tear down of the walls of division, to dissipate the haze of errors, and lead them back within holy Mother Church, where their Ancestors found salutary pastures of life; where, in an exclusive way, is conserved and transmitted whole the doctrine of Jesus Christ and wherein is dispensed the mysteries of heavenly grace.
It is therefore by force of the right of Our supreme Apostolic ministry, entrusted to us by the same Christ the Lord, which, having to carry out with [supreme] participation all the duties of the good Shepherd and to follow and embrace with paternal love all the men of the world, we send this Letter of Ours to all the Christians from whom We are separated, with which we exhort them warmly and beseech them with insistence to hasten to return to the one fold of Christ; we desire in fact from the depths of the heart their salvation in Christ Jesus, and we fear having to render an account one day to Him, Our Judge, if, through some possibility, we have not pointed out and prepared the way for them to attain eternal salvation. In all Our prayers and supplications, with thankfulness, day and night we never omit to ask for them, with humble insistence, from the eternal Shepherd of souls the abundance of goods and heavenly graces. And since, if also, we fulfill in the earth the office of vicar, with all our heart we await with open arms the return of the wayward sons to the Catholic Church, in order to receive them with infinite fondness into the house of the Heavenly Father and to enrich them with its inexhaustible treasures. By our greatest wish for the return to the truth and the communion with the Catholic Church, upon which depends not only the salvation of all of them, but above all also of the whole Christian society: the entire world in fact cannot enjoy true peace if it is not of one fold and one shepherd. (Pope Pius IX, Iam Vos Omnes, September 13, 1868.) 
Each of the conciliar "popes," including Ratzinger/Benedict, has disparaged and disowned such an "outdated" theology that is nothing other than a statement of immutable Catholic truth. Bergoglio has been very open in saying that he does not seek to convert anyone to what he thinks is the Catholic Church, but we must remember that Father Ratzinger, who has not remained "hidden" from public life despite his original protestations to the contrary seventy-six months ago, said the following as "Pope" Benedict XVI on August 19, 2005, in Cologne, Germany:
We all know there are numerous models of unity and you know that the Catholic Church also has as her goal the full visible unity of the disciples of Christ, as defined by the Second Vatican Ecumenical Council in its various Documents (cf. Lumen Gentium, nn. 8, 13; Unitatis Redintegratio, nn. 2, 4, etc.). This unity, we are convinced, indeed subsists in the Catholic Church, without the possibility of ever being lost (cf. Unitatis Redintegratio, n. 4); the Church in fact has not totally disappeared from the world.
On the other hand, this unity does not mean what could be called ecumenism of the return:  that is, to deny and to reject one's own faith history. Absolutely not!
It does not mean uniformity in all expressions of theology and spirituality, in liturgical forms and in discipline. Unity in multiplicity, and multiplicity in unity:  in my Homily for the Solemnity of Sts Peter and Paul on 29 June last, I insisted that full unity and true catholicity in the original sense of the word go together. As a necessary condition for the achievement of this coexistence, the commitment to unity must be constantly purified and renewed; it must constantly grow and mature. (Ecumenical meeting at the Archbishopric of Cologne English.)
The contrast between the clear language of Pope Pius IX in Iam Vos Omnes and, of course, that of Pope Leo XIII in Praeclara Gratulationis Publicae, June 29, 1896, and that of Pope Pius XI in Mortalium Animos, January 6, 1928, and the conciliar revolutionaries is clear. The teaching of our true popes is that of Our Lord and Saviour Jesus Christ. The teaching of the current line of antipopes is that of Antichrist. It is that simple.
Indeed, was one hundred years before the beginning of the third session of the "Second" Vatican Council on September 29, 1964, the Feast of the Dedication of the Church of Saint Michael the Archangel, which met under the direction of Giovanni Battista Enrico Antonio Maria Montini/Paul VI, that the Holy Office issued a decree on the Unity of the Church to condemn efforts by Catholics in England to seek effect "unity" with heretical and schismatic Anglican sect, which was created by the notorious wife killer, drunkard and lecherous scoundrel named King Henry VIII, who put to death over 72,000 Catholics between 1534 and 1547:
It has been made known to the Apostolic See that some Catholic laymen and ecclesiastics have enrolled in a society to "procure" as they say, the unity of Christianity, established at London in the year 1857, and that already many journalistic articles have been published, which are signed by the names of Catholics approving this society, or which are shown to be the work of churchmen commending this same society.
But certainly, I need not say what the nature of this society is, and whither it is tending; this is easily understood from the articles of the newspaper entitled THE UNION REVIEW, and from that very page on which members are invited and listed. Indeed, formed and directed by Protestants, it is animated by that spirit which expressly avows for example, that the three Christian communions, Roman Catholic, Greek schismatic, and Anglican, however separated and divided from one another, nevertheless with equal right claim for themselves the name Catholic. Admission, therefore, into that society is open to all, wheresoever they may live, Catholics, Greek-schismatics, and Anglicans, under this condition, however, that no one is permitted to raise a question about the various forms of doctrine in which they disagree, and that it is right for each individual to follow with tranquil soul what is acceptable to his own religious creed. Indeed, the society itself indicates to all its members the prayers to be recited, and to the priests the sacrifices to be celebrated according to its own intention: namely, that the said three Christian communions, inasmuch as they, as it is alleged, together now constitute the Catholic Church, may at some time or other unite to form one body. . . . 
The foundation on which this society rests is of such a nature that it makes the divine establishment of the Church of no consequence. For, it is wholly in this: that it supposes the true Church of Jesus Christ to be composed partly of the Roman Church scattered and propagated throughout the whole world, partly, indeed, of the schism of Photius, and of the Anglican heresy, to which, as well as to the Roman Church, "there is one Lord, one faith, one baptism" [cf. Eph. 4:5]. Surely nothing should be preferable to a Catholic man than that schisms and dissensions among Christians be torn out by the roots and that all Christians be "careful to keep the unity of the Spirit in the bond of peace" (Ep 4,3). . . . But, that the faithful of Christ and the clergy should pray for Christian unity under the leadership of heretics, and, what is worse, according to an intention, polluted and infected as much as possible with heresy, can in no way be tolerated. The true Church of Jesus Christ was established by divine authority, and is known by a fourfold mark, which we assert in the Creed must be believed; and each one of these marks so clings to the others that it cannot be separated from them; hence it happens that that Church which truly is, and is called Catholic should at the same time shine with the prerogatives of unity, sanctity, and apostolic succession. Therefore, the Catholic Church alone is conspicuous and perfect in the unity of the whole world and of all nations, particularly in that unity whose beginning, root, and unfailing origin are that supreme authority and "higher principality'' of blessed PETER, the prince of the Apostles, and of his successors in the Roman Chair. No other Church is Catholic except the one which, founded on the one PETER, grows into one "body compacted and fitly joined together" (Ep 4,16) in the unity of faith and charity. . . . 
Therefore, the faithful should especially shun this London society, because those sympathizing with it favor indifferentism and engender scandal. (The Raccolta: A Manual of Indulgences, Prayers and Devotions Enriched with Indulgences, approved by Pope Pius XII, May 30, 1951, and published in English by Benziger Brothers, New York, 1957, pp. 428-429.)
Everything about "ecumenism" taught by the "Second" Vatican Council and the postconciliar "popes" had been condemned in this declaration, which came six years before Pope Pius IX's apostolic letter, Iam Vos Omnes, September 13, 1868, to Protestants a year in advance of the [First] Vatican Council to urge them to convert to the true Faith.
Even though our numbers are relatively few, we must remain that we can never join the multitudes for the sake of "fellowship" and the false "peace" that might come from ceasing to be shunned as objects of derision. It is not difficult to identify Modernism. No detective work is needed. We just need the apostolic courage to embrace the truth without fear of consequences, a truth that Pope Saint Pius X explained in clear terms in Pascendi Dominici Gregis, September 8, 1907:
They [the Modernists] exercise all their ingenuity in an effort to weaken the force and falsify the character of tradition, so as to rob it of all its weight and authority. But for Catholics nothing will remove the authority of the second Council of Nicea, where it condemns those "who dare, after the impious fashion of heretics, to deride the ecclesiastical traditions, to invent novelties of some kind...or endeavor by malice or craft to overthrow any one of the legitimate traditions of the Catholic Church"; nor that of the declaration of the fourth Council of Constantinople: "We therefore profess to preserve and guard the rules bequeathed to the Holy Catholic and Apostolic Church, by the Holy and most illustrious Apostles, by the orthodox Councils, both general and local, and by everyone of those divine interpreters, the Fathers and Doctors of the Church." Wherefore the Roman Pontiffs, Pius IV and Pius IX, ordered the insertion in the profession of faith of the following declaration: "I most firmly admit and embrace the apostolic and ecclesiastical traditions and other observances and constitutions of the Church.'' (Pope Saint Pius X, Pascendi Dominci Gregis, September 8, 1907.)
Innovation has been championed endlessly by the conciliar revolutionaries, including Joseph Ratzinger/Benedict XVI and his successor, Jorge Mario Bergoglio, for over sixty years now. Countless offenses have been given to God. Countless numbers of souls have been lost to the true Faith as the very "innovations" of the Protestant Revolution that Catholic martyrs refused to accept in the Sixteenth Century have not only been accepted but defended by self-styled "champions" of "doctrinal orthodoxy" and "defenders of the papacy." 
It has been quite propitious, therefore, that the unwillingness of various saints to give even one little bit on a single point of Catholic doctrine has been called to mind in the past few days on Holy Mother Church's liturgical calendar.
Although not on the universal calendar of the Roman Rite of the Catholic Church today, the martyrdom of Saint Thomas More on July 6, 1535, and of Saint John Fisher of July 9, 1535, speak to us very powerfully concerning the absolute fidelity that we must have to the totality of Catholic truth no matter the personal consequences, yes, to the very point of shedding our blood.
The texts of the Mass for the Feast of of Saints John Fisher and Thomas More on July 9 in the traditional Dominican Rite speak prophetically not only about the courage of the only Catholic bishop in the realm of King Henry VIII to remain faithful to the true Church and the refusal of the lustful, murderous king's former Chancellor to swear to an oath that he knew was offensive God and injurious to souls.
The lesson for the Dominican Rite Mass on July 9 concerns the refusal of the ninety-year old Eleazar to pretend to eat swine flesh in violation of the Mosaic law to please his friends and admirers and thus to save his own life in the process: 
[16] And therefore he never withdraweth his mercy from us: but though he chastise his people with adversity, he forsaketh them not. [2 ] [17] But let this suffice in a few words for a warning to the readers. And now we must come to the narration. [18] Eleazar one of the chief of the scribes, a man advanced in years, and of a comely countenance, was pressed to open his mouth to eat swine's flesh. [19] But he, choosing rather a most glorious death than a hateful life, went forward voluntarily to the torment. [20] And considering in what manner he was come to it, patiently bearing, he determined not to do any unlawful things for the love of life.
[21] But they that stood by, being moved with wicked pity, for the old friendship they had with the man, taking him aside, desired that flesh might be brought, which it was lawful for him to eat, that he might make as if he had eaten, as the king had commanded of the flesh of the sacrifice: [22] That by so doing he might be delivered from death: and for the sake of their old friendship with the man they did him this courtesy. [23] But he began to consider the dignity of his age, and his ancient years, and the inbred honour of his grey head, and his good life and conversation from a child: and he answered without delay, according to the ordinances of the holy law made by God, saying, that he would rather be sent into the other world. [24] For it doth not become our age, said he, to dissemble: whereby many young persons might think that Eleazar, at the age of fourscore and ten years, was gone over to the life of the heathens: [25] And so they, through my dissimulation, and for a little time of a corruptible life, should be deceived, and hereby I should bring a stain and a curse upon my old age.
[26] For though, for the present time, I should be delivered from the punishments of men, yet should I not escape the hand of the Almighty neither alive nor dead. [27] Wherefore by departing manfully out of this life, I shall shew myself worthy of my old age: [28] And I shall leave an example of fortitude to young men, if with a ready mind and constancy I suffer an honourable death, for the most venerable and most holy laws. And having spoken thus, he was forthwith carried to execution. [29] And they that led him, and had been a little before more mild, were changed to wrath for the words he had spoken, which they thought were uttered out of arrogancy. [30] But when he was now ready to die with the stripes, he groaned, and said: O Lord, who hast the holy knowledge, thou knowest manifestly that whereas I might be delivered from death, I suffer grievous pains in body: but in soul am well content to suffer these things because I fear thee.
[31] Thus did this man die, leaving not only to young men, but also to the whole nation, the memory of his death for an example of virtue and fortitude. (2 Machabees 6: 16-31.)
The aged Eleazar was conscious first and foremost of his duties before God. He could simply appear to do something that he knew would offend and give a scandalous example to others while saving his own life. Fear had no place in the life of Eleazar. Fear can have no place in the life of a Catholic in these perilous times of apostasy and betrayal, times in which the combined anti-Incarnational forces of Modernity in the world and of Modernism in the counterfeit church of conciliarism conspire against us on a daily basis, counseling us to be "silent" in the faces of their relentless assaults against the honor and glory of the Most Blessed Trinity and the Sacred Deposit of Faith that has been entrusted exclusively to the Catholic Church for its eternal safekeeping and infallible explication.
Fear had no place in the life of Saint Thomas More, who refused to go along with his friend Lord Norfolk's plea to join him for the "sake of fellowship" in swearing to the legitimacy of King Henry VIII's marriage and the Parliamentary Act of Supremacy that declared him to be the "supreme head of the Church in England as far as God allows." Although taken from the script for the stage play version of Robert Bolt's A Man for All Seasons, the dialogue below cleaves pretty closely to the actual historical record of Saint Thomas More's interrogation by Thomas Cromwell: 
MORE It's most material. For refusing to swear, my goods are forfeit and I am condemned to life imprisonment. You cannot lawfully harm me further. But if you were right in supposing I had reasons for refusing and right again in supposing my reasons to be treasonable, the law would let you cut my head off.
NORFOLK (He has followed with some difficulty) Oh yes.
CROMWELL (An admiring murmur) Oh, well done, Sir Thomas. I've been trying to make that clear to His Grace for some time.
NORFOLK (Hardly responds to the insult; his face is gloomy and disgusted) Oh, confound all this . . . (With real dignity) I'm not a scholar, as Master Cromwell never tires of pointing out, and frankly I don't know whether the marriage was lawful or not. But damn it, Thomas, look at those names . . . You know those men! Can't you do what I did, and come with us, for fellowship?
MORE (Moved) And when we stand before God, and you are sent to Paradise for doing according to your conscience, and I am damned for not doing according to mine, will you come with me, for fellowship? ( A Man For All Seasons, Act 2)
No, the names and the impressive numbers of people who accept the nonexistent "legitimacy" of Joseph Ratzinger/Benedict XVI and his band of conciliar revolutionaries and their false, sacramentally barren liturgical rites do not matter at all. We must do what we know is correct regardless of who is offended, regardless of who calumniates us, regardless of how estrange we become from our closest relatives, friends and former associates or coworkers. None of that matters. Not one bit of it. We must love God above all else. (See We Must Abide By Truth, Not By Persons).
Refusing to go along with others for the sake of "fellowship" or in the belief that "the numbers can't be wrong" does not make any one of us one whit better than those who do not see the truth. It is difficult, very difficult, for a Catholic with a true love of Holy Mother Church to come to the terrible conclusion that the man dressed in a white cassock in the Apostolic Palace in the Vatican is a figure of Antichrist, an imposter, a pretender to the Throne of Saint Peter.
Sure, the "information" is "there" for people to accept or reject. Accepting or rejecting the truth in these confusing times is not as simple as it appears, especially when people are prone to go this way or that way and have their emotions lead them to "believe" the last thing they read or the last person with whom they have spoken, seeking ready answers without having any solid foundation to remain steadfast when pressured by friends to "come back" with them where "the numbers are to be found." We should remember that God alone is the sole judge of the subjective state of the souls of others. And while we can and must warn others about dangers to their souls and point out their errors is our obligation under the Spiritual Works of Mercy, we cannot be obsessed about whether they accept the truth or reject him. It should be enough for us to remain grateful to Our Lady for sending us the graces to see the truth and to persevere in it despite all of the sufferings that we may have endured in doing so, praying fervently for those from whom we are estranged at this time.
Saint Thomas More understood full well that God alone knows the subjective state of the souls of others: 
CRANMER So those of us whose names are there are damned, Sir Thomas?
MORE I don't know, Your Grace. I have no window to look into another man's conscience. I condemn no one.
CRANMER Then the matter is capable of question?
MORE Certainly.
CRANMER But that you owe obedience to your King is not capable of question. So weigh a doubt against a certainty and sign.
MORE Some men think the Earth is round, others think it flat; it is a matter capable of question. But if it is flat, will the King's command make it round? And if it is round, will the King's command flatten it? No, I will not sign.
CROMWELL (Leaping up, with ceremonial indignation) Then you have more regard to your own doubt than you have to his command!
MORE For myself, I have no doubt.
CROMWELL No doubt of what?
MORE No doubt of my grounds for refusing this oath. Grounds I will tell to the King alone, and which you, Master Secretary, will not trick out of me.
NORFOLK Thomas--
MORE Oh, gentlemen, can't I go to bed?
CROMWELL You don't seem to appreciate the seriousness of your position.
MORE I defy anyone to live in that cell for a year and not appreciate the seriousness of his position.
CROMWELL Yet the State has harsher punishments.
MORE You threaten like a dockside bully.
CROMWELL How should I threaten?
MORE Like a Minister of State, with justice!
CROMWELL Oh, justice is what you're threatened with.
MORE Then I'm not threatened. ( A Man For All Seasons, Act 2)
While we do not judge the subjective state of the souls of others, we must, however, remain steadfast in the truth as no amount of numbers or names can make Jorge Mario Bergoglio to be a Catholic or a bishop if this is not the case. Those who think that he is owe him complete obedience in all that pertains to Faith, Worship and Morals. It is more than a little disingenuous to claim the moral "high ground" while accepting the supposed "legitimacy" of a heretical "pope" while casting stones at those who reject that legitimacy entirely by imprisoning them, figuratively speaking, into cells of disrepute or considered no better than small colonies of lepers from whom "respectable Catholics" must keep their distance lest their catch the leprosy.
Saint Thomas More did indeed remain faithful to the very end, discharging his mind fully after his conviction upon the perjured testimony of Richard Rich, something that the actual transcript of his trial makes very clear:
Well, seeing I am condemned, God knows, how justly, I will freely speak for the disburdening my Conscience, what I think of this Law. When I perceived it was the King's Pleasure to sift out from whence the Pope's Authority was derived; I confess I studied seven years together to find out the truth of it, and I could not meet with the Works of any one Doctor, approved by the Church, that avouch a Layman was, or ever could be the Head of the Church.
Chancellor. Would you be esteemed wiser, or to have a sincerer Conscience than all the Bishops, learned Doctors, Nobility and Commons of this Realm?
More. I am able to produce against, one Bishop which you can produce on your side, a hundred holy and Catholic Bishops for my Opinion; and against one Realm, the Consent of Christendom for a thousand years.
Norfo!k: Sir Thomas, you shew your obstinate and malicious Mind.
More. Noble Sir, it's no Malice or Obstinacy that makes me say this, but the just necessity of the Cause obliges me to it for the Discharge of my Conscience; and  call God to witness, that nothing but this has excited me to it. 
After this the Judges kindly offering him their favorable Audience if he had any thing else to say; but that as the blessed Apostle St. Paul, as we read in the Acts of the Apostles, was present,  and consenting to the Protomartyr Stephen, keeping their Clothes that stoned him to death, and yet they are both now holy Saints in heaven, and there shall continue Friends to Eternity; so I verily trust, and shall therefore heartily pray, that albeit your Lordships have been on Earth my Judges to Condemnation, yet that we, may hereafter meet joyfully together in Heaven to our everlasting Salvation: and God preserve you, especially my Sovereign Lord the King, and grant him faithful Counselors. (The Trial and Execution of Sir Thomas More (and Saint Thomas More's Speech in Defense of Himself, at his Trial.)
To the very end, you see, Saint Thomas More bore his persecutors no ill will. He pitied them. He prayed for them. He knew that he was being sent to die for the Catholic Faith. He was at peace. That was enough for him. It should be enough for us.
Indeed, the Gospel that will be read at Holy Mass on Friday, July 12, 2019, for the Feast of Saint John Gualbert (whose life was examined in 2011 in Reconciling Enemies One To The Other), speaks to us very powerfully to see the very image of Christ the King in those who persecute us and calumniate us, forgiving them right readily as they do so: 
You have heard that it hath been said, Thou shalt love thy neighbour, and hate thy enemy. [44] But I say to you, Love your enemies: do good to them that hate you: and pray for them that persecute and calumniate you: [45] That you may be the children of your Father who is in heaven, who maketh his sun to rise upon the good, and bad, and raineth upon the just and the unjust.
[46] For if you love them that love you, what reward shall you have? do not even the publicans this? [47] And if you salute your brethren only, what do you more? do not also the heathens this? [48] Be you therefore perfect, as also your heavenly Father is perfect.  (Matthew 5: 43-58.)
Yes, our persecutors and calumniators are really our best friends as they are being used by the good God as instruments to help us to be so purified of self and disordered self-love that we thank Him for helping us to be ground into nothing in the eyes of the "numbers," praying for a good and happy reconciliation for all eternity with Heaven for those who have sought to persecute and/or speak ill of us even they, not realizing what it is they are doing, are just flat out wrong in their accusations. Everything does indeed get revealed on the Last Day at the General Judgment of the living and the dead. That's all that matters. Nothing else.
Saint Maria Goretti, a martyr for the holy virtue of Purity, whose feast also falls today, July 9, 2019, forgave her assailant, Alessandro Serenellii, as he lay mortally wounded in her hospital bed the day after his attack upon her: 
"Yes, I forgive him and want him to be in Paradise with me some day." (See St. Maria Goretti and her Murderer.)
Saint John Fisher, who refused to go along with his brother bishops in denying the Catholic Faith and swearing to King Henry VIII's Oath of Supremacy, also demonstrated this complete, unconditional and peaceful forgiveness of those who persecuted him for remaining steadfast in defense of the Catholic Faith as he was about to be executed on June 22, 1535: 
Christian people, I am come hither to die for the faith of Christ's Catholic Church, and I thank God hitherto my courage hath served me well thereto, so that yet hitherto I have not feared death; wherefore I desire you help me and assist me with your prayers, that at the very point and instant of my death's stroke, and in the very moment of my death, I then faint not in any point of the Catholic Faith for fear; and I pray God save the king and the realm, and hold His holy hand over it, and send the king a good counsel. (The Martyrdom of St. John Fisher.) 
Dom Prosper Gueranger's reflection on the Octave of the Solemnity of Saints Peter and Paul explained the fact that was known to the English and Irish Martyrs, including Saints John Fisher and Thomas More, and to the Martyrs of Gorkum: A true and legitimate Success of Saint Peter must be honored and obeyed as the papacy is the Principle of Unity and the infallible guarantor of doctrinal orthodoxy:
Firmly resting upon Peter, the Church turns to him whom the Spouse has given to be her Head, and testifies to him no less veneration and love than obedience and fidelity; such is the craving of her gratitude. (Dom Prosper Gueranger, O.S.B., The Liturgical Year, Volume 12, Time after Pentecost: Book III, p. 450.)
Interjection Number One:
As has been noted several times before on this website, Dom Prosper Gueranger, O.S.B., was unstinting in his rejection of the Gallicanist heresy that one can disobey a true and legitimate Successor of Saint Peter. No Catholic may disobey or ignore the commands of a true pope without sinning. Catholics do not have the moral freedom to pick and choose what teaching of a man they recognize as a true pope they consider "orthodox" and hence binding upon their consciences.
Dom Prosper Gueranger continued:
Moreover, she is fully aware of what is thus expressed by St. Peter Damian (or as others say by a disciple of St. Bernard): 'Non may pretend to intimacy with our Lord unless he be intimate with Peter.' Such is the admirable harmony between God's approach to his creatures and its advances towards Him. God is not found save in Jesus; nor Jesus, save in the Church, nor the Church, save in Peter. 'If you had known me,' said Christ, 'you would without doubt have known my Father also'; but the Jews sought God outside of Jesus, and their efforts were vain. Since then others have come, wanting to find Jesus whilst setting aside his Church; but that which God has joined, what man shall put asunder? So these men, running after a Christ, a phantom of their own conceptions, have found neither Jesus Christ nor his Church. Finally, others are sons of the Church, yet they persuade themselves that in these pastures where, by right, the soul may feed upon God, they have done to seek save the divine Shepherd who dwells in heaven; but by the very fact of his having committed to another the care of feeding both lambs and sheep, our Lord seems to have a quite different view, for these words imply not only some, either mere beginners and the imperfect, or the strong and saints, but all, little and great, whom the heavenly Shepherd confided to Simon Bar-Joana, by him to be fed, directed, advanced and guarded. (Dom Prosper Gueranger, O.S.B., The Liturgical Year, Volume 12, Time after Pentecost: Book III, pp. 450-451.)
Interjection Number Two:
This is a rebuke, of course, to the Orthodox and to the Protestants, and it is a reminder that a true Holy Father is the guardian of souls, not a predator to be shunned. It should be eminently clear in our own circumstances now that the conciliar "popes" are threats to souls. Obviously, the conciliar antipopes have been threats to souls of Catholics and non-Catholics worldwide not only by means of the false doctrines they have propagated, the sacrilegious liturgies they have staged and the endless burning of grains incense at the altars of false religions, including those of outright pagans. These spiritual robber barons have actually to the bodily integrity of human beings who have been preyed upon by their appointees, and Bergoglio has personally indemnified putative clerics within the walls of the Vatican itself who are sodomite predators. The corruption of Faith and Worship that is so exemplified by the conciliar "popes" has been accompanied—if not presaged—by a moral corruption that is at the heart of the whole false conciliar religion.
Returning now to Dom Prosper Gueranger's reflection on the Octave of the Solemnity of Saints Peter and Paul:
O thou soul that hungerest after God, go to Peter, think not otherwise to appease thy cravings. Formed in the school of the holy liturgy, thou hast surely  no part with such as neglect the Humanity, as they say (speaking of Mary's divine Son), in order to come all the more assuredly to the Word; but in like manner take care, thou also, not to turn God's Vicar into an obstacle path. Jesus longs for the blissful meeting, even as thou dost; be certain, therefore, that what he places between thee and himself, on the way, is no obstacle but a help. (Dom Prosper Gueranger, O.S.B., The Liturgical Year, Volume 12, Time after Pentecost: Book III, p. 451.)
Interjection Number Three:
A true and legitimate Successor of Saint Peter can never be an obstacle to Holy Mother Church and thus to the good of souls.
To the conclusion of Dom Prosper Gueranger's reflection:
Just as in the adorable Eucharist, the sacred species are but to point out to thee where he is whom, of thyself, thou couldst never find here below; so, too, the mystery of Peter has no other end than this, to show thee with absolute certainty where he, who resides for thee in the divine Sacrament in his proper substance, resides also for thee in his authority and infallible guidance. These two mysteries compete with one another, and will both cease at the moment when our eyes gaze at last directly upon Jesus; but from now till then, the Church sees herein not so much an intermediary or a veil, as the most precious sign of the invisible Spouse. Therefore, wonder not if the homage she pays to Peter seems to rival that which she bestows on the sacred Host; in her multiplied genuflections which she makes before them both, she is indeed adoring; adoring not that man, it is true, whom we see seated on the apostolic throne, not yet the mere species perceived by our senses on the altar; but adoring, in both instances, Jesus, who is silent in the Eucharistic Sacrament, and who speaks and commands in his Vicar.
Further still, she knows that Peter alone can give her the sacred Host. Baptism which makes us to be sons of God, and all the sacraments which multiple the divine energies within us, are a treasure which he alone had licence to dispose of legitimately, either by himself or by others. It is his word, throughout the world, that every grade of authorized teaching give birth within souls to faith which is the beginning of salvation, and develops it from these humble commencements right up to the luminous summits of sanctity. And because, on the mountain heights, the life of the evangelical counsels is the chosen garden reserved to himself by the Spouse, Peter likewise claims as his own the guidance and protection, in a more special manner, of religious communities; for he wishes to be always able himself to offer directly to Jesus the fairest flowers of the holiness which his exalted ministry is the very principle and support. Thus sanctified, to Peter again does the Church address herself when she would learn in what way to approach her Spouse in her worship; she says to him, as heretofore the disciples said to our Lord, 'Teach us to pray'; and Peter, animated with what he knows so well of the gorgeous pomp of worship in the heavenly country, regulates for us here below the sacred ceremonial, and dictates to the bride herself the throne of her songs. Lastly, who but Peter can add to her holiness those other marks of unity, catholicity, and apostolicity, which are, in the face of the whole world, her unquestionable right and title to govern and to be loved by the Son of God?
If we are truly sons of the Church, if in very deed it is from the heart of our mother that we draw our sentiments, let us well understand what should be our gratitude, respectful love, tender confidence and utter devotedness of our whole being toward him from whom, by the sweet will of God, come all these good things. Peter, in his own person, and in that of his successors, especially in him who in these our own days bears the weight of the whole world and our burdens also, ought to be the constant object of our filial reverence and homage. His glories, his sufferings, his thoughts should become ours. Forget not that he, of whom the Roman Pontiff is visible representative, has willed that every one of his members should have their invisible share in the government of his Church; the responsibility of each one in a point of such major importance is clearly indicated in the great duty of prayer, which in God's sight is of more value than action, and which is rendered by love stronger than hell. Then, there is that other strict duty of almsdeeds, whereby we are obliged to come to the relief of our humblest brother; if so, we can deem ourselves free with regard to the bishop and father of our souls, when unjust spoliation makes him know, in the necessities of his immense administration, cramping want and difficulty? Happy are they who to the tribute of gold may be allowed to add that of blood! But all are not granted such an honour. (Dom Prosper Gueranger, O.S.B., The Liturgical Year, Volume 12, Time after Pentecost: Book III, pp. 451-453.)
Sadly, many "conservative" and semi-traditionalist Catholics within the structures of the counterfeit church of conciliarism no longer have the gratitude, respective love, tender confidence and utter devotedness for the papacy in general, no less for the man they profess is a true pope, Jorge Mario Bergoglio. As was noted ten days ago in a republished article, the papacy is due our reverence and the person of a true pope is due our obedience. The fact that so few believing Catholics understand the nature of the papacy and the obedience due a true pope is a product both of the conciliar revolutionaries themselves and the rise of the Gallican heresy anew by the late Archbishop Marcel Lefebvre and the Society of Saint Pius X.
For our part, of course, we must remain steadfast in Faith. We must do so, however, by praying fervently for those who disagree with us, including, of course, our own family members and friends. No prayer is ever wasted. Those of us who are consecrated to Our Blessed Lord and Saviour Jesus Christ through the Sorrowful and Immaculate Heart of Mary entrust ourselves entirely unto her as her slaves, worrying not about how whatever merits are attached to our prayers and fasting and sacrifices and good works are dispensed by her. We look not for results. We look to remain faithful to the end as the martyrs who have been mentioned so briefly—and the Martyrs of Gorkum, who are also commemorated today, July 9 (see appendix below), did—with such great peace, joy and gratitude.
Once one does recognize and accept the truth, however, it is important to act upon it, as integrity of a rightly formed conscience is indeed quite vital to our salvation. This is especially incumbent upon those who believe themselves to be bishops and priests even when this is not actually the case. Pope Saint Gregory the Great had some pointed words for such men who refuse to speak out in defense of the truth: 
The Lord reproaches them through the prophet: They are dumb dogs that cannot bark. On another occasion he complains: You did not advance against the foe or set up a wall in front of the house of Israel, so that you might stand fast in battle on the day of the Lord. To advance against the foe involves a bold resistance to the powers of this world in defense of the flock. To stand fast in battle on the day of the Lord means to oppose the wicked enemy out of love for what is right. 
When a pastor has been afraid to assert what is right, has he not turned his back and fled by remaining silent? Whereas if he intervenes on behalf of the flock, he sets up a wall against the enemy in front of the house of Israel. Therefore, the Lord again says to his unfaithful people: Your prophets saw false and foolish visions and did not point out your wickedness, that you might repent of your sins. The name of the prophet is sometimes given in the sacred writings to teachers who both declare the present to be fleeting and reveal what is to come. The word of God accuses them of seeing false visions because they are afraid to reproach men for their faults and thereby lull the evildoer with an empty promise of safety. Because they fear reproach, they keep silent and fail to point out the sinner's wrongdoing. 
The word of reproach is a key that unlocks a door, because reproach reveals a fault of which the evildoer is himself often unaware. That is why Paul says of the bishop: He must be able to encourage men in sound doctrine and refute those who oppose it. For the same reason God tells us through Malachi: The lips of the priest are to preserve knowledge, and men shall look to him for the law, for he is the messenger of the Lord of hosts. Finally, that is also the reason why the Lord warns us through Isaiah: Cry out and be not still; raise your voice in a trumpet call.
Anyone ordained a priest undertakes the task of preaching, so that with a loud cry he may go on ahead of the terrible judge who follows. If, then, a priest does not know how to preach, what kind of cry can such a dumb herald utter? It was to bring this home that the Holy Ghost descended in the form of tongues on the first pastors, for he causes those whom he has filled, to speak out spontaneously. (For two different translations, see: The Book of Pastoral Rule and That the ruler should be discreet in keeping silence, profitable in speech .)
There is simply no escape from this question: is the conciliar church the Catholic Church or is it not?
We must continue to understand that this is the time that God has appoined for us from all eternity to live. The Barque of Saint Peter is sailing through stormy waters now. However, we must weather the storms and to bear with the difficulties of the moment with the sure confidence that Our Lord Himself will put an end to the madness in His good time. 
As I am wont to say some who write me about the latest outrage in the counterfeit church of conciliarism or the latest attack on the Faith from the lords of Modernity, do not get lost in the "trees." The devil is having his time in the world now. He loses. He always does. In the end, of course, the Sorrowful and Immaculate Heart of Mary will triumph, and the madness of the present time will pass. We must simply try to keep Our Lord company in prayer before His Real Presence in the Most Blessed Sacrament, if this is possible to do in your part of the world, and to pray as many Rosaries each day as our state-in-life permits.
What are waiting for?
Viva Cristo Rey!
Isn't it time to pray a Rosary now? 
Our Lady of the Rosary, pray for us!
Vivat Christus Rex! Viva Cristo Rey!
Saint Joseph, pray for us.
Saints Peter and Paul, pray for us.
Saint John the Baptist, pray for us.
Saint John the Evangelist, pray for us.
Saint Michael the Archangel, pray for us.
Saint Gabriel the Archangel, pray for us.
Saint Raphael the Archangel, pray for us.
Saints Joachim and Anne, pray for us.
Saints Caspar, Melchior, and Balthasar, pray for us.
Saint John Fisher, pray for us.
Saint Thomas More, pray for us.
The Martyrs of Gorkum, pray for us.
Saint Veronica Giuliani, pray for us.
Saint Maria Goretti, pray for us.
Saint John Gualbert, pray for us.
Saints Felix and Nabor, pray for us.
Appendix
The Martyrs of Gorkum
(Material extracted from: Not An Ecumenist Among Them)
Today, July 9, 2019, is also the feast day, not observed on the General Roman Calendars of 1954 or 1958, of the Martyrs of Gorkum, whose stories have been told on this site before but is worth re-telling once again:
The year 1572, Luther and Calvin had already wrested from the Church a great part of Europe. The iconoclastic storm had swept through the Netherlands, and was followed by a struggle between Lutheranism and Calvinism in which the latter was victorious. In 1571 the Calvinists held their first synod, at Embden. On 1 April of the next year the Watergeuzen (Sea-beggars) conquered Briel and later Vlissingen and other places. In June, Dortrecht and Gorkum fell into their hands and at Gorkum they captured nine Franciscans. These were: Nicholas Pieck, guardian of Gorkum, Hieronymns of Weert, vicar, Theodorus van der Eem, of Amersfoort, Nicasius Janssen, of Heeze, Willehad of Denmark, Godefried of Mervel, Antonius Of weert, Antonius of Hoornaer, and Franciseus de Roye, of Brussels. To these were added two lay brothers from the same monastery, Petrus of Assche and Cornelius of Wyk near Duurstede. Almost at the same time the Calvinists laid their hands on the learned parishpriest of Gorkum, Leonardus Vechel of Bois-le-Duc, who had made distinguished studies in Louvain, and also has assistant Nicolaas Janssen, surnamed Poppel, of Welde in Belgium. With the above, were also imprisoned Godefried van Duynsen, of Gorkum who was active as a priest in his native city, and Joannes Lenartz of Oisterwljk, an Augustinian and director of the convent of Augustinian nuns in Gorkum. To these fifteen, who from the very first underwent all the sufferings and torments of the persecution, were later added four more companions: Joannes van Hoornaer, a Dominican of the Cologne province and parish priest not far from Gorkum, who, when apprised of the incarceration of the clergy ot Gorkum, hastened to the city in order to administer the sacraments to them and was seized and imprisoned with the rest, Jacobus Lacops of Oudenaar, a Norbertine, who after leading a frivolous life, being disobedient to his order, and neglectful of his religious duties, reformed, became a curate in Monster, Holland and was imprisoned in 1572; Adrianus Janssen of Hilvarenbeek, at one time a Premonstratensian and parish priest in Monster, who was sent to Brielle with Jacobus Lacops; and lastly Andreas Wouters of Heynoord, whose conduct was not edifying up to the time of his arrest, but who made ample amends by his martyrdom.'
After enduring much suffering and abuse in the prison at Gorkum (26 June-6 July) the first fifteen martyrs were transferred to Brielle. On their way to Dortrecht they were exhibited for money to the curious and arrived at Brielle 13 July. On the following day, Lumey, the commander of the Watergeuzen, caused the martyrs to be interrogated and ordered a sort of disputation. In the meantime the four other martyrs also arrived. It was exacted of each that he abandon his belief in the Blessed Sacrament and in papal supremacy. All remained firm in their faith. Meanwhile there came a letter from William of Orange which enjoined all those in authority to leave priests and religious unmolested. Nevertheless Lumey caused the martyrs to be hanged in the night of 9 July, in a turfshed amid cruel mutilations. Their beatification took place on 14 Nov., 1675, and their canonization on 29 June, 1865. For many years the place of their martyrdom in Brielle has been the scene of numerous pilgrimages and processions. The Martyrs of Gorkum
One will notice that the Calvinists, ever eager to make a buck--or the Dutch equivalent thereof, charged admission for the curious to see the martyrs, who would not renounce their belief in the Blessed Sacrament and in papal supremacy. It is that very truth of papal supremacy that Joseph Ratzinger/Benedict XVI is prepared to "discuss" with the heretical and schismatic Orthodox on the basis of The Ravenna Document. Today the Orthdox and tomorrow the descendants of the Dutch Calvinists and all other Protestants.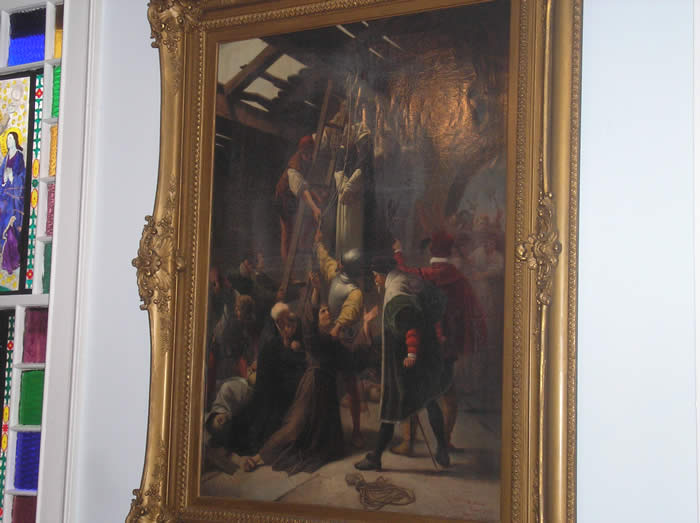 A painting of the Catholic martyrs of Gorkum, The Netherlands, who were tortured and executed in 1572 by Dutch Calvinists, the theological soul-mates of the "Pilgrims" who came to North America less than half a century later who were so "grateful" that they had had a bountiful harvest in a land where there was no Catholic Mass--or so they thought. (Our Lady of the Rosary Chapel, Monroe, Connecticut, the Feast of Saint Cecilia, Thursday, November 22, 2007; see L'Osservatore del Calvinista for a review of the benign treatment given John Calvin by L'Osservatore Romano.
There was not an "ecumenist" to be found among the Martyrs of Gorkum. They had not yet been "enlightened" by the "springtime of the Church" represented by the "Second" Vatican Council. They did not realize that certain truths, such as seeking with urgency the unconditional conversion of of non-Catholics to the Catholic Church, could be "understood" in different ways at different times given the change in historical circumstances. This is what makes it possible Joseph Ratzinger/Benedict XVI's complete and utter rejection of the work of the Martyrs of Gorkum and of the martyr Saint Fidelis of Sigmaringen and of Saint Francis de Sales himself to bring Calvinists back to the Faith, which he summarized so succinctly in his address given Protestant and Orthodox leaders on August 19, 2005:
We all know there are numerous models of unity and you know that the Catholic Church also has as her goal the full visible unity of the disciples of Christ, as defined by the Second Vatican Ecumenical Council in its various Documents (cf. Lumen Gentium, nn. 8, 13; Unitatis Redintegratio, nn. 2, 4, etc.). This unity, we are convinced, indeed subsists in the Catholic Church, without the possibility of ever being lost (cf. Unitatis Redintegratio, n. 4); the Church in fact has not totally disappeared from the world.
On the other hand, this unity does not mean what could be called ecumenism of the return:  that is, to deny and to reject one's own faith history. Absolutely not!
It does not mean uniformity in all expressions of theology and spirituality, in liturgical forms and in discipline. Unity in multiplicity, and multiplicity in unity:  in my Homily for the Solemnity of Sts Peter and Paul on 29 June last, I insisted that full unity and true catholicity in the original sense of the word go together. As a necessary condition for the achievement of this coexistence, the commitment to unity must be constantly purified and renewed; it must constantly grow and mature. (Ecumenical meeting at the Archbishopric of Cologne English.)
So much for the blood of the Martyrs of Gorkum. So much for the blood of the English Martyrs. So much for the blood of Saint Josaphat, who was killed for his efforts to convert the Orthodox. So much for Catholic truth. So much for the good of souls.
Joseph Ratzinger/Benedict XVI knows more than these martyrs. He knows more than the Mother of God Himself:
As the strange circumstances of Nicola's possession became known everywhere, several Calvinist preachers came with their followers, to "expose this popish cheat," as they said. On their entrance, the devil saluted them mockingly, called them by name, and told them that they had come in obedience to him. One of the preachers took his Protestant prayer book, and began to read it with a very solemn face. The devil laughed at him, and putting on a most comical look, he said: "Ho! Ho! My good friend; do you intend to expel me with your prayers and hymns? Do you think that they will cause me any pain? Don't you know that they are mine? I helped to compose them!"
"I will expel thee in the name of God," said the preacher, solemnly.
"You!" said the devil mockingly. "You will not expel me either in the name of God, or in the name of the devil. Did you ever hear of one devil driving out another?"
"I am not a devil," said the preacher, angrily, "I am a servant of Christ."
"A servant of Christ, indeed!" said Satan, with a sneer. "What! I tell you, you are worse than I am. I believe, and you do not want to believe. Do you suppose that you can expel me from the body of this miserable wretch? Ha! Go first and expel all the devils that are in your own heart!"
The preacher took his leave, somewhat discomfited. On going away, he said, turning up the whites of his eyes, "O Lord, I pray thee, assist this poor creature!"
"And I pray Lucifer," cried the evil spirit, "that he may never leave you, but may always keep you firmly in his power, as he does now. Go about your business, now. You are all mine, and I am your master." (Exorcism of Nicola Aubrey)
Many years ago in the village of Plantees, France, there lived a farmer named Pierre Port-Combet, who used to work on Sundays and Feast Days. At one time he had been a Catholic, but he had fallen away from the truth Faith and joined a Protestant religion called Calvinism. He had a great dislike for Catholics and anything about the Catholic Faith.
Pierre had married a devout Catholic woman named Jeanne. They had six children and Jeanne tried to raise them as good Catholics. But even though Pierre had made a vow to allow his wife to raise their children as Catholics, he gradually led their six children into the Calvinist religion! Jeanne was broken hearted about this because it meant that her husband and children were in great danger of loosing their souls. And since Pierre would not listen to her pleadings, the best she could do was to go to Mass, pray, and make sacrifices.
This area of France was very Catholic at the time. There was a law that all people should not work on Sundays and on special Holy Days, so that they could go to Mass and spend the rest of the day in prayer and holy reading. But Pierre loved to break this law, especially on Our Lady's Feast Days, because he did not like the Catholic religion!
On March 25, 1649, the Feast of the Annunciation, Pierre showed his dislike for the Catholic Church by working near a road where villagers could see him, as they traveled on their way to Mass. He pretended to work, by using his knife to cut into a willow tree, which grew beside the road. But as soon as he cut into the willow, the tree bled! Pierre was shocked as the blood flowed out of the tree and splashed onto his hands and arms. At first Pierre thought he was wounded, but finding that he was not injured, he stabbed the willow tree another time, and again the tree bled!
Around this time, Pierre's wife passed by on her way to church. Seeing that her husband's arms were covered with blood, she rushed over to help him. While she was looking for the wound, Pierre tried to explain to his wife what had just taken place. Jeanne tried to calm her husband and cut the tree with his knife, but nothing happened. When Pierre noticed that no blood came from the tree, he grabbed the knife from his wife and cut off a willow branch. The blood came gushing out of the tree!
By now Pierre was terribly frightened! He called to Louis, a neighbour who was just passing by, and begged him to come and see what happened. But when Louis took the knife and tried to cut the tree, no blood came out. As the other villagers passed by they began to realize that the blood from the tree was a warning from God to Pierre, so that he would come back to the Catholic Faith and not work on Sundays.
Before long, Pierre was brought to court for working on this special Feast Day and he had to pay a fine. And when the Bishop heard about the miracle of the bleeding willow tree, he ordered some priests to look into the matter. Pierre and others who saw the miracle were questioned. In the end it was decided that this miracle was a stern warning from God to Pierre, so that he would mend his ways!
Pierre had a change of heart and realizing that he was wrong, he would often go to pray near the willow tree. But when some of his Calvinist friends saw him, they threatened to hurt him if he left the Calvinist religion. Because of this Pierre refused to go back to the Catholic Church.
Heaven was watching over Pierre and after seven years, on March 25, 1656, Our Lady appeared to him. On that day, Pierre was working in the field and saw a Lady standing far away on a little hill. The Lady wore a white dress, a blue mantle and had a black veil over her head, which partly covered her face. As the Lady came toward Pierre, she suddenly picked up speed and in a flash, she stood beside him. With her beautiful, sweet voice, the Lady spoke to Pierre, "God be with you my friend!"
For a moment, Pierre stood in amazement. The Lady spoke again, "What is being said about this devotion? Do many people come?"
Pierre replied, "Yes many people come,"
Then the Lady said, "Where does that heretic live who cut the willow tree? Does he not want to be converted?"
Pierre mumbled an answer. The Lady became more serious, "Do you think that I do not know that you are the heretic? Realize that your end is at hand. If you do not return to the True Faith, you will be cast into Hell! But if you change your beliefs, I shall protect you before God. Tell people to pray that they may gain the good graces which, God in His mercy has offered to them."
Pierre was filled with sorrow and shame and moved away from the Lady. Suddenly realizing that he was being rude, Pierre stepped closer to her, but she had moved away and was already near the little hill. He ran after her begging, "Please stop and listen to me. I want to apologize to you and I want you to help me!"
The Lady stopped and turned. By the time Pierre caught up to her, she was floating in the air and was already disappearing from sight. Suddenly, Pierre realized that the Most Blessed Virgin Mary had appeared to him! He fell to his knees and cried buckets of tears, "Jesus and Mary I promise you that I will change my life and become a good Catholic. I am sorry for what I have done and I beg you please, to help me change my life…"
On August 14, 1656, Pierre became very sick. An Augustinian priest came to hear his confession and accepted him back into the Catholic Church. Pierre received Holy Communion the next day on the Feast of the Assumption. After Pierre returned to the Catholic Faith, many others followed him. His son and five daughters came back to the Catholic Church as well as many Calvinists and Protestants. Five weeks later on September 8, 1656, Pierre died and was buried under the miraculous willow tree, just as he had asked.
Fr. Fais, the parish priest from the nearby town of Vinay, helped a lady to buy the field where Pierre had spoken to Our Lady. In time the chapel of Our Lady of Good Meeting was built on the spot where Our Lady had spoken to Pierre. Soon, a large church was built over the spot of the miraculous tree, and named in honour of Our Lady of the Willow. Some good person also carved a statue of Our Lady similar to the way Pierre had described the Blessed Virgin Mary. When this statue was placed in the church, many people came to honour Our Lady of the Willow.
But alas, because of the sinfulness of man, this beautiful shrine did not last and was ruined by members of the horrible French Revolution. These wicked men took the statue of Our Lady of the Willow and chopped it to pieces! Oh, what a terrible way to treat Our Lady's image! However, all was not lost! A good lady gathered up the pieces of the statue and hid them until the French Revolution was over. A piece of the willow tree was also saved from the hands of these wicked men.
After the horrible French Revolution, people came again to honour Our Lady of the Willow at this sacred spot. The statue of Our Lady was repaired and in time the shrine was placed in the hands of the Oblates of Mary Immaculate. Now some priests were caring for the shrine and could help the many people who came there.
In 1856, two hundred years after the apparition of Our Lady to Pierre, Blessed Pope Pius IX decreed that the statue of Our Lady should be crowned on September 8 of that year. More than 30,000 people were present at the shrine for the crowning of Our Lady of the Willow, and at least four hundred priests were also present at the ceremony. And this same Pope ordered that another crowning should take place in 1873!
On March 17, 1924, Pope Pius XI declared that Our Lady of the Willow Church was now a minor basilica. Here the statue of Our Lady of the Willow is venerated. A box containing a piece of the old willow tree lies under her altar and Pierre's grave is at the foot of the altar.
Many people come to honour Our Lady of the Willow at this shrine and many have left little plaques in thanksgiving to Our Lady, for some special grace which she has given them. Also more than a hundred miracles are reported to have taken place at this shrine. Thank-you Jesus and Mary for your great mercies.
Our Lady of the Willow, Pray for Us! (Our Lady of the Willow Tree)
The Feast of Our Lady of Mount Carmel occurs seven days from now. It would be good to continue to pray this Novena for the needs of Holy Mother Church and for the conversion of our country and the world to the Social Reign of Christ the King that was overthrown by the Protestant Revolt and the rise of Judeo-Masonry:
O, beautiful Flower of Carmel, most fruitful vine, Splendor of Heaven, holy and singular, Who brought forth the Son of God, still ever remaining a Pure Virgin, assist me in this necessity.
O, Star of the Sea, help and protect me. Show me that Thou art my Mother.
O, Mary, conceived without sin, Pray for us who have recourse to Thee.
Mother and Ornament of Carmel, pray for us. Virgin, Flower of Carmel, pray for us.
Patroness of all who wear the Scapular, pray for us.
Hope of all who die wearing the Scapular, pray for us.
St. Joseph, Friend of the Sacred Heart, pray for us.
St. Joseph, Chaste Spouse of Mary, pray for us.
St. Joseph, our Patron, pray for us.
O, Sweet Heart of Mary, be our Salvation.  (Here is a link to an older and longer Novena: Novena to Our Lady of Mount Carmel.)
This is the situation that God has known from all eternity would befall us in our own lives at this time of salvation history. The graces won for us on the wood of the Holy Cross and that flow into our hearts and souls through the loving hands of Our Lady are sufficient for us to prosper under the crosses, whether personal or social or ecclesiastical, that we are asked to bear now. Let us lift high the Cross in our lives, thankful for each and every cross that is sent our way, understanding that the all merciful Redeemer Who shed His Most Precious Blood to redeem us wants us to plant a few seeds for the restoration of His Social Reign on earth as the fruit of the Triumph of His Most Blessed Mother's Immaculate Heart. We must enfold ourselves in the tender mercies of the Most Sacred Heart of Jesus through the Immaculate Heart of Mary with perfect confidence.