Bergoglio Shows Us Hell Every Day
One with a properly formed sensus Catholicus, which Jorge Mario Bergoglio does not have, of course (see A New Sense for a New Faith, part one and A New Sense for a New Faith, part two), knows that the Catholic Church is the one and only true Church on the face of this earth. She alone has the mandate her Divine Founder, Invisible Head and Mystical Bridegroom, to teach, sanctify and govern in His Holy Name. All other religions are false.
This is simple.
This is basic.
This is elementary Catholicism.
The simple truth that the Catholic Church alone is the true Church was taught in every parish throughout the world prior to the dawning of the age of conciliarism with the "election" of Angelo Roncalli/John XXIII on October 28, 1958, the Feast of Saints Simon and Jude, admitting that there were Modernists squirreled away in various parishes, seminaries, universities and schools and houses of religious formation who believed and taught, however guardedly, differently. One would have been very hard pressed during the first decade of my own life in the 1950s to find a Catholic who did not believe that the Catholic Church was the only true Church, although there were many Catholics, to be sure, influenced by the religious indifferentism that is part of the heresy of Americanism, who believed that Protestants and Jews would go to Heaven pretty easily.
Today, of course, one would be hard-pressed to find Catholics in the structures of what most people think is the Catholic Church who believe that there is anything called a true church, no less that the Catholic Church is that one and only true Church, outside of which there is no salvation and without which there can be no true social order. Most Catholics today view those who do believe that Catholic Church is true Church are crazy, schismatic, judgmental and disloyal.
The course of the conciliar revolution has been such that Catholics began to accept higher and higher doses of brazen apostasy as being perfectly normal and natural. It was a mere twenty-one years after the conclusion of the "Second" Vatican Council on December 8, 1965, the Feast of the  Immaculate Conception of the Blessed Virgin Mary, that "Saint John Paul II" took full advantage of the groundwork that had been laid before him and the paths in false ecumenism that he had been blazing for eight years at that point to convene an assembly of the One World Ecumenical Church at Assisi, Italy, on October 27, 1986. The photograph below, which many of us did not see at the time (I, for one, was running for lieutenant governor of New York at the time and commuting between my "day" job at Illinois State University and a Saturday morning graduate class in Asian Government and Politics that I was teaching at Saint John's University in Jamaica, New York), speaks of Karol Wojtyla/John Paul II' ready awareness that Catholics would not be scandalized by an image of a supposed Successor of Saint Peter sitting as an equal with the leaders of every false religion in the world:
"Saint John Paul II" and his successor, Joseph Ratzinger/Benedict XVI, each specialized in words and actions that gave succor to the adherents of false religions and even esteemed the symbols of such diabolical sects with their own priestly hands.
Jorge Mario Bergoglio has, of course, capitalized on the destruction of the sensus fidei by his five predecessors in the conciliar "Petrine Ministry," throwing away any pretense of restraint to embrace any and every supposed clergyman with wanton abandon, including "high fives" to Protestant "ministers" and calling an Anglican evangelical "bishop," Tony Palmer, as his "brother bishop" in a seven minute video prepared for the "Kenneth Copeland Minstries" conference in Dallas, Texas, five months ago now (see Will "Coercionism" Accompany "Resignationism"?). This egregious apostate really does believe that Protestant "ministers" have a "mission" from Our Blessed Lord and Saviour Jesus Christ Himself to "spread the Gospel."
The "gospel" that Jorge Mario Bergoglio professes, however, is one born of Modernism, a gospel that makes of Our Lord whatever the "believer" wants Him to be without worrying about minor little things such as "doctrines" or having the "message" "corrupted" by dogmatic councils, which just happened to have met, of course, under the infallible guidance and protection of the Third Person of the Most Blessed Trinity, God the Holy Ghost, and the "filter" of Scholastics such as the Angelic Doctor, Saint Thomas Aquinas.
Pope Saint Pius X described Jorge Mario Bergoglio's "gospel" when he condemned The Sillon in Notre Charge Apostolique, August 15, 1910:
To reply to these fallacies is only to easy; for whom will they make believe that the Catholic Sillonists, the priests and seminarists enrolled in their ranks have in sight in their social work, only the temporal interests of the working class? To maintain this, We think, would be an insult to them. The truth is that the Sillonist leaders are self-confessed and irrepressible idealists; they claim to regenerate the working class by first elevating the conscience of Man; they have a social doctrine, and they have religious and philosophical principles for the reconstruction of society upon new foundations; they have a particular conception of human dignity, freedom, justice and brotherhood; and, in an attempt to justify their social dreams, they put forward the Gospel, but interpreted in their own way; and what is even more serious, they call to witness Christ, but a diminished and distorted Christ. Further, they teach these ideas in their study groups, and inculcate them upon their friends, and they also introduce them into their working procedures. Therefore they are really professors of social, civic, and religious morals; and whatever modifications they may introduce in the organization of the Sillonist movement, we have the right to say that the aims of the Sillon, its character and its action belong to the field of morals which is the proper domain of the Church. In view of all this, the Sillonist are deceiving themselves when they believe that they are working in a field that lies outside the limits of Church authority and of its doctrinal and directive power.  (Pope Saint Pius X, Notre Charge Apostolique, August 15, 1910.)
Moreover, Jorge Mario Bergoglio's "church" is akin to to Martin Luther's amorphous mass of "believers" who interpet the words of Holy Writ according to their own disordered "lights." In Jorge Mario Bergoglio's church, of course, everyone is saved, including Jews and Mohammedans and others who deny the Sacred Divinity of Our Blessed Lord and Saviour Jesus Christ, as what matters is the "heart," not doctrines and not a strict adherence to a "rigid" moralism.
Pope Saint Pius X propehtically denounced Bergoglio, a quintessential Modernist and a true, faithful son of the conciliar revolution, with the following words in Notre Charge Apostolique:
Alas! yes, the double meaning has been broken: the social action of the Sillon is no longer Catholic. The Sillonist, as such, does not work for a coterie, and "the Church", he says, "cannot in any sense benefit from the sympathies that his action may stimulate." A strange situation, indeed! They fear lest the Church should profit for a selfish and interested end by the social action of the Sillon, as if everything that benefited the Church did not benefit the whole human race! A curious reversal of notions! The Church might benefit from social action! As if the greatest economists had not recognized and proved that it is social action alone which, if serious and fruitful, must benefit the Church! But stranger still, alarming and saddening at the same time, are the audacity and frivolity of men who call themselves Catholics and dream of re-shaping society under such conditions, and of establishing on earth, over and beyond the pale of the Catholic Church, "the reign of love and justice" with workers coming from everywhere, of all religions and of no religion, with or without beliefs, so long as they forego what might divide them - their religious and philosophical convictions, and so long as they share what unites them - a "generous idealism and moral forces drawn from whence they can" When we consider the forces, knowledge, and supernatural virtues which are necessary to establish the Christian City, and the sufferings of millions of martyrs, and the light given by the Fathers and Doctors of the Church, and the self-sacrifice of all the heroes of charity, and a powerful hierarchy ordained in heaven, and the streams of Divine Grace - the whole having been built up, bound together, and impregnated by the life and spirit of Jesus Christ, the Wisdom of God, the Word made man - when we think, I say, of all this, it is frightening to behold new apostles eagerly attempting to do better by a common interchange of vague idealism and civic virtues. What are they going to produce? What is to come of this collaboration? A mere verbal and chimerical construction in which we shall see, glowing in a jumble, and in seductive confusion, the words Liberty, Justice, Fraternity, Love, Equality, and human exultation, all resting upon an ill-understood human dignity. It will be a tumultuous agitation, sterile for the end proposed, but which will benefit the less Utopian exploiters of the people. Yes, we can truly say that the Sillon, its eyes fixed on a chimera, brings Socialism in its train.

We fear that worse is to come: the end result of this developing promiscuousness, the beneficiary of this cosmopolitan social action, can only be a Democracy which will be neither Catholic, nor Protestant, nor Jewish. It will be a religion (for Sillonism, so the leaders have said, is a religion) more universal than the Catholic Church, uniting all men become brothers and comrades at last in the "Kingdom of God". - "We do not work for the Church, we work for mankind."

And now, overwhelmed with the deepest sadness, We ask Ourselves, Venerable Brethren, what has become of the Catholicism of the Sillon? Alas! this organization which formerly afforded such promising expectations, this limpid and impetuous stream, has been harnessed in its course by the modern enemies of the Church, and is now no more than a miserable affluent of the great movement of apostasy being organized in every country for the establishment of a One-World Church which shall have neither dogmas, nor hierarchy, neither discipline for the mind, nor curb for the passions, and which, under the pretext of freedom and human dignity, would bring back to the world (if such a Church could overcome) the reign of legalized cunning and force, and the oppression of the weak, and of all those who toil and suffer.

We know only too well the dark workshops in which are elaborated these mischievous doctrines which ought not to seduce clear-thinking minds. The leaders of the Sillon have not been able to guard against these doctrines. The exaltation of their sentiments, the undiscriminating good-will of their hearts, their philosophical mysticism, mixed with a measure of illuminism, have carried them away towards another Gospel which they thought was the true Gospel of Our Savior. To such an extent that they speak of Our Lord Jesus Christ with a familiarity supremely disrespectful, and that - their ideal being akin to that of the Revolution - they fear not to draw between the Gospel and the Revolution blasphemous comparisons for which the excuse cannot be made that they are due to some confused and over-hasty composition.

We wish to draw your attention, Venerable Brethren, to this distortion of the Gospel and to the sacred character of Our Lord Jesus Christ, God and man, prevailing within the Sillon and elsewhere. As soon as the social question is being approached, it is the fashion in some quarters to first put aside the divinity of Jesus Christ, and then to mention only His unlimited clemency, His compassion for all human miseries, and His pressing exhortations to the love of our neighbor and to the brotherhood of men. True, Jesus has loved us with an immense, infinite love, and He came on earth to suffer and die so that, gathered around Him in justice and love, motivated by the same sentiments of mutual charity, all men might live in peace and happiness. But for the realization of this temporal and eternal happiness, He has laid down with supreme authority the condition that we must belong to His Flock, that we must accept His doctrine, that we must practice virtue, and that we must accept the teaching and guidance of Peter and his successors. Further, whilst Jesus was kind to sinners and to those who went astray, He did not respect their false ideas, however sincere they might have appeared. He loved them all, but He instructed them in order to convert them and save them. Whilst He called to Himself in order to comfort them, those who toiled and suffered, it was not to preach to them the jealousy of a chimerical equality. Whilst He lifted up the lowly, it was not to instill in them the sentiment of a dignity independent from, and rebellious against, the duty of obedience. Whilst His heart overflowed with gentleness for the souls of good-will, He could also arm Himself with holy indignation against the profaners of the House of God, against the wretched men who scandalized the little ones, against the authorities who crush the people with the weight of heavy burdens without putting out a hand to lift them. He was as strong as he was gentle. He reproved, threatened, chastised, knowing, and teaching us that fear is the beginning of wisdom, and that it is sometimes proper for a man to cut off an offending limb to save his body. Finally, He did not announce for future society the reign of an ideal happiness from which suffering would be banished; but, by His lessons and by His example, He traced the path of the happiness which is possible on earth and of the perfect happiness in heaven: the royal way of the Cross. These are teachings that it would be wrong to apply only to one's personal life in order to win eternal salvation; these are eminently social teachings, and they show in Our Lord Jesus Christ something quite different from an inconsistent and impotent humanitarianism.  (Pope Saint Pius X, Notre Charge Apostolique, August 15, 1910.)
Everything that Jorge Mario Bergoglio believes has been condemned numerous times by our true popes, whether promulgating the decrees of Holy Mother Church's true general councils or teaching in their capacity as the Visible Head of the Catholic Church on earth. Those who do not see this by now have excuse before God for not accepting this as the truth. The evidence is clear. It is irrefutable.
There are times, however, when it is necessary to point out these contradictions even though they are so patently clear as to make commentary completely superflouos. Then again, as noted earlier, most Catholics have lost the sensus Catholicus and thus find as foreign to their thinking and repugnant to what they think is "charitable" to recognize the following report, written by Brian Stiller of the "Global Evangelical Alliance," on Bergoglio's meeting three weeks ago with Protestant evangelical "ministers" for the apostasy that anyone sixty years would hvae seen without any hestitation:
I know some will wonder if we lack discernment, dining as we did with the head of a church many see as heretical. As an Evangelical, I'm clear in the importance of the Reformation and the role our community plays in announcing the Good News. I celebrate our understanding of the Scriptures as our only and final authority, the priesthood of every believer, the life-giving moment of rebirth and freedom for churches and ministries to spring up under the inspiration of the Spirit. No one is interested in rewinding the clock. Also to construct a united church isn't doable and neither is it in our interest. Such plans do not lead us to fulfill Jesus' prayer in John 17 that we be one in Christ.
My counter argument to those who might dismiss friendship with the pope is this. For Evangelicals and Protestants, of all shapes and sizes, the state and condition of the Roman Catholic Church matters. Of the over 2 billion Christians, one-half are linked to the Vatican. About 600 million are Evangelicals and another 550 million members of the World Council of Churches, (which includes the Orthodox Churches). As a world body, it is our calling to have contact with other major Christian communities and faiths. Conferencing with Rome no more compromises our doctrinal commitments than it would by meeting with the heads of other religions. We do that as a natural and important role of our calling. In places where Evangelicals are marginalized, having this official connection allows us to raise issues and ask for responses we would never otherwise get.
In a worldwide community of faith, the work and role of each Christian community matters. Given that 50 percent of those who call themselves Christian affiliate with Rome, when its spiritual and ethical authority is diminished it affects the entire world. When Rome loses her way, when corruption characterizes her financial dealings, when sexual scandals rob her of moral influence, when she fades from view in strongly declaring the nature and salvation of Christ, secularism rules.
It's fair to ask what kind of Catholic Church we as Evangelicals want to see. At lunch I asked Pope Francis what his heart was for evangelism. He smiled, knowing what was behind my question. His comment was, "I'm not interested in converting Evangelicals to Catholicism. I want people to find Jesus in their own community.  There are so many doctrines we will never agree on. Let's not spend our time on those. Rather, let's be about showing the love of Jesus." (Of course Evangelicals do evangelize Catholics and Catholics do the same to us. However, that discussion we will raise another day.)
We spoke about how in our diversity we might find unity and strength. Borrowing from Swiss Protestant theologian Oscar Cullman, we reflected how "reconciled diversity" allows us to stand within our own understandings of how Christ effects salvation. And then we press on to deal with global issues like religious freedom and justice and other matters, which affect our wellbeing.
We are in the middle of a major religious shakeup worldwide. The Middle East is on the edge of what we know not. Islam is on the rise. The Gospel witness permeates much of the global south. So what of the future?
A vibrant pope, spiritually vital, tough in ethical leadership and competent in overseeing his world communion is critical. What he says and does has a profound affect on us all. It matters to us that the Spirit rests upon him in wisdom and courage.
Evangelicals need not hide behind fear of engagement.  Working on human suffering and matters of injustice with Christians who have a different tradition and read the biblical text differently does not violate who we are or what we believe
Working on the world stage, it is evident there is respect for our distinctive evangelical message and regard for our responsibility and calling to represent our Christian community. International cooperation among Christians is built on that respect. (Lunch with Jorge. See also the post at Novus Ordo Watch Wire.)
So much for the work of so many martyrs who shed their blood seeking converts to the true Church.
So much for the mission that Our Lord Himself gave the Eleven as He asceneded into Heaven on Ascension Thursday.
For all the commotion about Jorge's comments as reported by Brian Stiller, however, it is important to remember that the Argentine Apostate has said very consistently that Catholics should not seek to convert anyone to what is thought to be the Catholic Church. This is what he said in a video presentation to Argentine youth on the Feast of Saint Cajetan on August 7, 2013:
Thank you for listening to me. Thank you for coming here today. Thank you for all that you bear in your heart. Jesus loves you very much. Saint Cajetan loves you very much. He only asks one thing of you: that you come together! That you go out and seek and find one in greater need! But not alone - with Jesus, with Saint Cajetan! Am I going to go out to convince someone to become a Catholic? No, no, no! You are going to meet with him, he is your brother! That's enough! And you are going to help him, the rest Jesus does, the Holy Spirit does it. Remember well: with Saint Cajetan, we the needy go to meet with those who are in greater need. And, hopefully, Jesus will direct your way so that you will meet with one in greater need. (Francis the Insane Dreamer, Rebel and Miscreant's Message for the Feast of Saint Cajetan.)
Meet one in greater need?
There is no greater need for a soul than who is outside of the bosom of Holy Mother Church to be invited with urgency to convert to the true Faith.
Yet it is that Jorge Mario Bergolio equates seeking the conversion of non-Catholics to the true Faith with what he disparages as "proseltyizing." This is one of his first such visceral denunciations of "proselytizing" in favor of the "new evangelization" of conciliarism, which means preaching the corrupted version of the Gospel of Our Blessed Lord and Saviour Jesus Christ that is nothing other than pure, unadulterated Modernism:
(Vatican Radio) Evangelization is not proselytizing. This was the focus of Pope Francis' remarks to faithful gathered for Mass on Wednesday morning in the Chapel of the Domus Sanctae Marthae residence in the Vatican. The Pope reiterated that the Christian who wants to proclaim the Gospel must dialogue with everyone, knowing that no one owns the truth, because the truth is received by the encounter with Jesus.
Pope Francis stressed the courageous attitude of Paul St Paul at the Areopagus, when, in speaking to the Athenian crowd, he sought to build bridges to proclaim the Gospel. The Pope called Paul's attitude one that "seeks dialogue" and is "closer to the heart" of the listener. The Pope said that this is the reason why St Paul was a real pontifex: a "builder of bridges" and not of walls. The Pope went on to say that this makes us think of the attitude that a Christian ought always to have.

"A Christian," said Pope Francis, "must proclaim Jesus Christ in such a way that He be accepted: received, not refused – and Paul knows that he has to sow the Gospel message. He knows that the proclamation of Jesus Christ is not easy, but that it does not depend on him. He must do everything possible, but the proclamation of Jesus Christ, the proclamation of the truth, depends on the Holy Spirit. Jesus tells us in today's Gospel: 'When He shall come, the Spirit of truth, shall guide you into all the truth.' Paul does not say to the Athenians: 'This is the encyclopedia of truth. Study this and you have the truth, the truth.' No! The truth does not enter into an encyclopedia. The truth is an encounter - it is a meeting with Supreme Truth: Jesus, the great truth. No one owns the truth. The we receive the truth when we meet [it]. (Miss Frances at Wednesday Liturgical Travesty: build bridges, not walls.)
No one owns the truth?
The Catholic Church is the sole repository of every jot and tittle of what her Divine Founder, Invisible Head and Mystical Bridegroom entrusted to her exclusively for Its infallible explication and eternal safekeeping.
Jorge Mario Bergoglio does not believe this, which is why he believes that Protestants and the Orthodox have a "mission" to proclaim their versions of the Gospel. This hideous apostate believes that one can "learn" something about Our Lord that is lacking within the Divine Constitution of Holy Mother Church. He is a heretic in the mode of his immediate predecessor, Joseph Ratzinger/Benedict XVI (where is the Antipope Emeritus these days?), who quoted Protestant "theologians" with great admiration in his "unofficial" books.
Writing in Iam Vos Omnes, Pope Pius IX, exhorted Protestants to convert to the true Faith in order to leave their haze of errors:
"It is for this reason that so many who do not share 'the communion and the truth of the Catholic Church' must make use of the occasion of the Council, by the means of the Catholic Church, which received in Her bosom their ancestors, proposes [further] demonstration of profound unity and of firm vital force; hear the requirements [demands] of her heart, they must engage themselves to leave this state that does not guarantee for them the security of salvation. She does not hesitate to raise to the Lord of mercy most fervent prayers to tear down of the walls of division, to dissipate the haze of errors, and lead them back within holy Mother Church, where their Ancestors found salutary pastures of life; where, in an exclusive way, is conserved and transmitted whole the doctrine of Jesus Christ and wherein is dispensed the mysteries of heavenly grace.
"It is therefore by force of the right of Our supreme Apostolic ministry, entrusted to us by the same Christ the Lord, which, having to carry out with [supreme] participation all the duties of the good Shepherd and to follow and embrace with paternal love all the men of the world, we send this Letter of Ours to all the Christians from whom We are separated, with which we exhort them warmly and beseech them with insistence to hasten to return to the one fold of Christ; we desire in fact from the depths of the heart their salvation in Christ Jesus, and we fear having to render an account one day to Him, Our Judge, if, through some possibility, we have not pointed out and prepared the way for them to attain eternal salvation. In all Our prayers and supplications, with thankfulness, day and night we never omit to ask for them, with humble insistence, from the eternal Shepherd of souls the abundance of goods and heavenly graces. And since, if also, we fulfill in the earth the office of vicar, with all our heart we await with open arms the return of the wayward sons to the Catholic Church, in order to receive them with infinite fondness into the house of the Heavenly Father and to enrich them with its inexhaustible treasures. By our greatest wish for the return to the truth and the communion with the Catholic Church, upon which depends not only the salvation of all of them, but above all also of the whole Christian society: the entire world in fact cannot enjoy true peace if it is not of one fold and one shepherd." (Pope Pius IX, Iam Vos Omnes, September 13, 1868.)
Pope Pius IX knew that he had the solemn Apostolic duty to seek with urgency the unconditional conversion of all men to the one, true Church. He told Protestants that their state "does not guarantee for them the security of salvation." He did not want to die to face a terrible judgment from Christ the King for not having done everything in his power to seek the conversion of non-Catholics to the true Faith.
Jorge Mario Bergoglio does not believe he has any such solemn Apostolic duty. He is not a Catholic. Period.
As has been noted many times on site, Bergoglio treats as members of his amorphous "church" anyone who says that he "knows Jesus" even though the only way to know, to love and to serve Him is to be a member of His true Church, the Catholic Church, and to adhere to everything she teaches in His Holy Name, thus making relevant once again the following passage from Pope Pius XII's Mystici Corporis, June 29, 1946:
Actually only those are to be included as members of the Church who have been baptized and profess the true faith, and who have not been so unfortunate as to separate themselves from the unity of the Body, or been excluded by legitimate authority for grave faults committed. "For in one spirit" says the Apostle, "were we all baptized into one Body, whether Jews or Gentiles, whether bond or free." As therefore in the true Christian community there is only one Body, one Spirit, one Lord, and one Baptism, so there can be only one faith. And therefore, if a man refuse to hear the Church, let him be considered – so the Lord commands – as a heathen and a publican. It follows that those who are divided in faith or government cannot be living in the unity of such a Body, nor can they be living the life of its one Divine Spirit. (Pope Pius XII, Mystici Corporis, June 29, 1943.)
Jorge Mario Bergoglio's belief in "reconciled diversity" rejects such a "rigid dogmatism" even though it is part of the Sacred Deposit of Faith from which no one can dissent in the slightest withot falling from the Holy Faith in Its entirety. His belief in "reconciled diversity," recounted by Brian Stiller in his report for the "Global Evangelical Alliance," is orthodox heresy, that is, it is orthodox heretical doctrine in the counterfeit church of conciliarism.
Joseph Ratzinger/Benedict XVI said the following when addressing an ecumaniacal gathering in Cologne, Germany, on Friday, August 19, 2005:
We all know there are numerous models of unity and you know that the Catholic Church also has as her goal the full visible unity of the disciples of Christ, as defined by the Second Vatican Ecumenical Council in its various Documents (cf. Lumen Gentium, nn. 8, 13; Unitatis Redintegratio, nn. 2, 4, etc.). This unity, we are convinced, indeed subsists in the Catholic Church, without the possibility of ever being lost (cf. Unitatis Redintegratio, n. 4); the Church in fact has not totally disappeared from the world.
On the other hand, this unity does not mean what could be called ecumenism of the return:  that is, to deny and to reject one's own faith history. Absolutely not!
It does not mean uniformity in all expressions of theology and spirituality, in liturgical forms and in discipline. Unity in multiplicity, and multiplicity in unity:  in my Homily for the Solemnity of Sts Peter and Paul on 29 June last, I insisted that full unity and true catholicity in the original sense of the word go together. As a necessary condition for the achievement of this coexistence, the commitment to unity must be constantly purified and renewed; it must constantly grow and mature. (Ecumenical meeting at the Archbishopric of Cologne English.)
The "unity in diversity" lie propagated by the conciliar "popes," including "Saint John Paul II, Joseph Ratzinger/Benedict XVI and Jorge Mario Bergoglio, was handled quite adroitly by Father Francis Connell in 1959:
To characterize the relation between Catholics and Protestants as 'unity-in-diversity' is misleading, inasmuch as it implies that essentially Catholics are one with heretics, and that their diversities are only accidental. Actually, the very opposite is the true situation. For, however near an heretical sect may seem to be to the Catholic Church in its particular beliefs, a wide gulf separates them, insofar as the divinely established means whereby the message of God is to be communicated to souls--the infallible Magisterium of the Church--is rejected by every heretical sect. By telling Protestants that they are one with us in certain beliefs, in such wise as to give the impression that we regard this unity as the predominant feature of our relation with them, we are actually misleading them regarding the true attitude of the Catholic Church toward those who do not acknowledge Her teaching authority. (Father Francis Connell, Father Connell Answers Moral Questions, published in 1959 by Catholic University of America Press, p. 11; quoted in Fathers Dominic and Francisco Radecki, CMRI, TUMULTUOUS TIMES, p. 348.)
How can anyone continue to claim that conciliarism is Catholicism and that the conciliar "popes" have been true and legitimate Successors of Saint Peter?
To further offend Our Blessed Lord and Saviour Jesus Christ and the Divine Constitution of His Holy Church, Jorge Mario Bergoglio will soon go to an "evangelical" "church" in Rome to "apologize" for the role played by the Catholic Church in "oppressing" Pentecostalist Protestants in the city whose true spiritual foundation rests upon Saint Peter, the first pope, and Saint Paul, both of whom served the Catholic Church, not some amorphous mass of believers.
This is a triumph for Pentecostalism, which was born in the United States of America and condemned by Pope Leo XIII in Testem Benevolentiae Nostrae, January 22, 1899, just seventy-eight years before the manifestation of this false movement in the counterfeit church of conciliarism, the "Catholic Charismatic Movement," was embraced by a Capuchin Franciscan by the name of Father Raniero Cantalamessa, O.F.M.:
Coming now to speak of the conclusions which have been deduced from the above opinions, and for them, we readily believe there was no thought of wrong or guile, yet the things themselves certainly merit some degree of suspicion. First, all external guidance is set aside for those souls who are striving after Christian perfection as being superfluous or indeed, not useful in any sense -the contention being that the Holy Spirit pours richer and more abundant graces than formerly upon the souls of the faithful, so that without human intervention He teaches and guides them by some hidden instinct of His own. Yet it is the sign of no small over-confidence to desire to measure and determine the mode of the Divine communication to mankind, since it wholly depends upon His own good pleasure, and He is a most generous dispenser 'of his own gifts. "The Spirit breatheth whereso He listeth." — John iii, 8.
"And to each one of us grace is given according to the measure of the giving of Christ." — Eph. iv, 7.
And shall any one who recalls the history of the apostles, the faith of the nascent church, the trials and deaths of the martyrs and, above all, those olden times, so fruitful in saints-dare to measure our age with these, or affirm that they received less of the divine outpouring from the Spirit of Holiness? Not to dwell upon this point, there is no one who calls in question the truth that the Holy Spirit does work by a secret descent into the souls of the just and that He stirs them alike by warnings and impulses, since unless this were the case all outward defense and authority would be unavailing. "For if any persuades himself that he can give assent to saving, that is, to gospel truth when proclaimed, without any illumination of the Holy Spirit, who gives unto all sweetness both to assent and to hold, such an one is deceived by a heretical spirit."-From the Second Council of Orange, Canon 7.
Moreover, as experience shows, these monitions and impulses of the Holy Spirit are for the most part felt through the medium of the aid and light of an external teaching authority. To quote St. Augustine. "He (the Holy Spirit) co-operates to the fruit gathered from the good trees, since He externally waters and cultivates them by the outward ministry of men, and yet of Himself bestows the inward increase."-De Gratia Christi, Chapter xix. This, indeed, belongs to the ordinary law of God's loving providence that as He has decreed that men for the most part shall be saved by the ministry also of men, so has He wished that those whom He calls to the higher planes of holiness should be led thereto by men; hence St. Chrysostom declares we are taught of God through the instrumentality of men.-Homily I in Inscrib. Altar. Of this a striking example is given us in the very first days of the Church.
For though Saul, intent upon blood and slaughter, had heard the voice of our Lord Himself and had asked, "What dost Thou wish me to do?" yet he was bidden to enter Damascus and search for Ananias. Acts ix: "Enter the city and it shall be there told to thee what thou must do."
Nor can we leave out of consideration the truth that those who are striving after perfection, since by that fact they walk in no beaten or well-known path, are the most liable to stray, and hence have greater need than others of a teacher and guide. Such guidance has ever obtained in the Church; it has been the universal teaching of those who throughout the ages have been eminent for wisdom and sanctity-and hence to reject it would be to commit one's self to a belief at once rash and dangerous.
A thorough consideration of this point, in the supposition that no exterior guide is granted such souls, will make us see the difficulty of locating or determining the direction and application of that more abundant influx of the Holy Spirit so greatly extolled by innovators. To practice virtue there is absolute need of the assistance of the Holy Spirit, yet we find those who are fond of novelty giving an unwarranted importance to the natural virtues, as though they better responded to the customs and necessities of the times and that having these as his outfit man becomes more ready to act and more strenuous in action. It is not easy to understand how persons possessed of Christian wisdom can either prefer natural to supernatural virtues or attribute to them a greater efficacy and fruitfulness. Can it be that nature conjoined with grace is weaker than when left to herself?
Can it be that those men illustrious for sanctity, whom the Church distinguishes and openly pays homage to, were deficient, came short in the order of nature and its endowments, because they excelled in Christian strength? And although it be allowed at times to wonder at acts worthy of admiration which are the outcome of natural virtue-is there anyone at all endowed simply with an outfit of natural virtue? Is there any one not tried by mental anxiety, and this in no light degree? Yet ever to master such, as also to preserve in its entirety the law of the natural order, requires an assistance from on high. These single notable acts to which we have alluded will frequently upon a closer investigation be found to exhibit the appearance rather than the reality of virtue. Grant that it is virtue, unless we would "run in vain" and be unmindful of that eternal bliss which a good God in his mercy has destined for us, of what avail are natural virtues unless seconded by the gift of divine grace? Hence St. Augustine well says: "Wonderful is the strength, and swift the course, but outside the true path." For as the nature of man, owing to the primal fault, is inclined to evil and dishonor, yet by the help of grace is raised up, is borne along with a new greatness and strength, so, too, virtue, which is not the product of nature alone, but of grace also, is made fruitful unto everlasting life and takes on a more strong and abiding character. (Pope Leo XIII, Testem Benevolentiae Nostrae, January 22, 1899.)
In other words, Pentecostalists contend that one must open oneself up to the belief that there should be "liberty" within the Church to discuss "new" things in imitation of the falsehoods of the American founding itself. It is also to open oneself up to reject the hierarchical nature of the Church herself.
That is, a belief in American individualism and egalitarianism, each of which are false naturalistic principles having nothing to do with the Faith (the first individualist and egalitarian was Lucifer, after all), leads one down the path of the layman seeking equality in the sanctuary with the ordained priest, of the abolition of Communion rails, of standing for the reception of what purports to be Holy Communion, of the use of vulgar tongues, subject to all manner of change and misinterpretation and deconstruction and positivism, in the Sacred Liturgy, of the rejection of the magisterial authority of the Catholic Church as binding upon one's conscience at all times and in all things. And the rejection of the magisterial authority of the Catholic Church leads one open to adopting Protestant Pentecostalism as the means by which one "knows" about God, deluding himself into thinking that God the Holy Ghost is leading him individually on a new path that deviates from the one prescribed by the Catholic Church. There is thus a direct path from Americanism to the "Catholic Charismatic Renewal" of conciliarism–in all of the other "movements" that have sprung up like weeds in the past forty-nine years since the close of the "Second" Vatican Council, and from that false council to Jorge's upcoming visit to a Pentecostalist church in  Rome. Talk about "conversion in reverse."
Moreover, Jorge's upcoming "apology" defames the Martyrs of the Coliseum and it defames the work of those who sought to convert Protestants to the true Faith in the Sixteenth and Seveneenth Centuries, including Saint John of Cologne and the Martyrs of Gorkum, whose feast was observed in some places on Wednesday, July 9, 2014, the same day as the feast of Saints John Fisher and Thomas More were observed in England and Wales:
The year 1572, Luther and Calvin had already wrested from the Church a great part of Europe. The iconoclastic storm had swept through the Netherlands, and was followed by a struggle between Lutheranism and Calvinism in which the latter was victorious. In 1571 the Calvinists held their first synod, at Embden. On 1 April of the next year the Watergeuzen (Sea-beggars) conquered Briel and later Vlissingen and other places. In June, Dortrecht and Gorkum fell into their hands and at Gorkum they captured nine Franciscans. These were: Nicholas Pieck, guardian of Gorkum, Hieronymns of Weert, vicar, Theodorus van der Eem, of Amersfoort, Nicasius Janssen, of Heeze, Willehad of Denmark, Godefried of Mervel, Antonius Of weert, Antonius of Hoornaer, and Franciseus de Roye, of Brussels. To these were added two lay brothers from the same monastery, Petrus of Assche and Cornelius of Wyk near Duurstede. Almost at the same time the Calvinists laid their hands on the learned parish priest of Gorkum, Leonardus Vechel of Bois-le-Duc, who had made distinguished studies in Louvain, and also has assistant Nicolaas Janssen, surnamed Poppel, of Welde in Belgium. With the above, were also imprisoned Godefried van Duynsen, of Gorkum who was active as a priest in his native city, and Joannes Lenartz of Oisterwljk, an Augustinian and director of the convent of Augustinian nuns in Gorkum. To these fifteen, who from the very first underwent all the sufferings and torments of the persecution, were later added four more companions: Joannes van Hoornaer, a Dominican of the Cologne province and parish priest not far from Gorkum, who, when apprised of the incarceration of the clergy ot Gorkum, hastened to the city in order to administer the sacraments to them and was seized and imprisoned with the rest, Jacobus Lacops of Oudenaar, a Norbertine, who after leading a frivolous life, being disobedient to his order, and neglectful of his religious duties, reformed, became a curate in Monster, Holland and was imprisoned in 1572; Adrianus Janssen of Hilvarenbeek, at one time a Premonstratensian and parish priest in Monster, who was sent to Brielle with Jacobus Lacops; and lastly Andreas Wouters of Heynoord, whose conduct was not edifying up to the time of his arrest, but who made ample amends by his martyrdom.'
After enduring much suffering and abuse in the prison at Gorkum (26 June-6 July) the first fifteen martyrs were transferred to Brielle. On their way to Dortrecht they were exhibited for money to the curious and arrived at Brielle 13 July. On the following day, Lumey, the commander of the Watergeuzen, caused the martyrs to be interrogated and ordered a sort of disputation. In the meantime the four other martyrs also arrived. It was exacted of each that he abandon his belief in the Blessed Sacrament and in papal supremacy. All remained firm in their faith. Meanwhile there came a letter from William of Orange which enjoined all those in authority to leave priests and religious unmolested. Nevertheless Lumey caused the martyrs to be hanged in the night of 9 July, in a turfshed amid cruel mutilations. Their beatification took place on 14 Nov., 1675, and their canonization on 29 June, 1865. For many years the place of their martyrdom in Brielle has been the scene of numerous pilgrimages and processions. (The Martyrs of Gorkum.)
One will notice that the Calvinists, ever eager to make a buck--or the Dutch equivalent thereof, charged admission for the curious to see the martyrs, who would not renounce their belief in the Blessed Sacrament and in papal supremacy. It is that very truth of papal supremacy that Joseph Ratzinger/Benedict XVI is prepared to "discuss" with the heretical and schismatic Orthodox on the basis of The Ravenna Document. Today the Orthdox and tomorrow the descendants of the Dutch Calvinists and all other Protestants.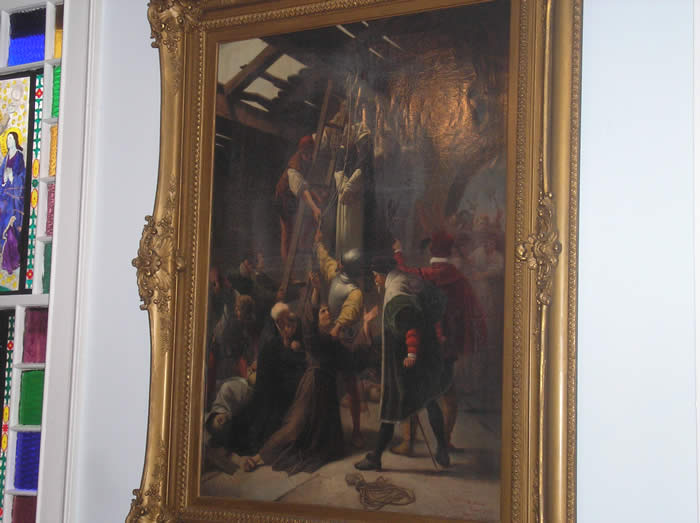 A painting of the Catholic martyrs of Gorkum, The Netherlands, who were tortured and executed in 1572 by Dutch Calvinists, the theological soul-mates of the "Pilgrims" who came to North America less than half a century later who were so "grateful" that they had had a bountiful harvest in a land where there was no Catholic Mass--or so they thought. (Our Lady of the Rosary Chapel, Monroe, Connecticut, the Feast of Saint Cecilia, Thursday, November 22, 2007; see L'Osservatore del Calvinista for a review of the benign treatment given John Calvin by L'Osservatore Romano.
There was not an "ecumenist" to be found among the Martyrs of Gorkum. They had not yet been "enlightened" by the "springtime of the Church" represented by the "Second" Vatican Council. They did not realize that certain truths, such as seeking with urgency the unconditional conversion of of non-Catholics to the Catholic Church, could be "understood" in different ways at different times given the change in historical circumstances. This is what makes it possible for the likes of Jorge Mario Bergoglio and Joseph Ratzinger/Benedict XVI to reject completly and utterly the work of the Martyrs of Gorkum and of the martyr Saint Fidelis of Sigmaringen and of Saint Francis de Sales himself to bring Calvinists back to the Faith and to reject the late Bishop George Hay's simple reiteration of Catholic truth concerning the condemned nature of mainintaining communion in religious matter with non-Catholics:
From this passage the learned translators of the Rheims New Testament, in their note, justly observe, "That, in matters of religion, in praying, hearing their sermons, presence at their service, partaking of their sacraments, and all other communicating with them in spiritual things, it is a great and damnable sin to deal with them." And if this be the case with all in general, how much more with those who are well instructed and better versed in their religion than others? For their doing any of these things must be a much greater crime than in ignorant people, because they know their duty better. (Bishop George Hay, The Laws of God Forbidding All Communication in Religion With Those of a False Religion.)
The spirit of Christ, which dictated the Holy Scriptures, and the spirit which animates and guides the Church of Christ, and teaches her all truth, is the same; and therefore in all ages her conduct on this point has been uniformly the same as what the Holy Scripture teaches. She has constantly forbidden her children to hold any communication, in religious matters, with those who are separated from her communion; and this she has sometimes done under the most severe penalties. In the apostolical canons, which are of very ancient standing, and for the most part handed down from the apostolical age, it is thus decreed: "If any bishop, or priest, or deacon, shall join in prayers with heretics, let him be suspended from Communion". (Can. 44)
Also, "If any clergyman or laic shall go into the synagogue of the Jews, or the meetings of heretics, to join in prayer with them, let him be deposed, and deprived of communion". (Can. 63) (Bishop George Hay, (The Laws of God Forbidding All Communication in Religion With Those of a False Religion.)
Pope Pius XI denounce the ecumaniacal activities of the conciliar "popes" some thirty-seven years before the end of the "Second" Vatican Council:
So, Venerable Brethren, it is clear why this Apostolic See has never allowed its subjects to take part in the assemblies of non-Catholics: for the union of Christians can only be promoted by promoting the return to the one true Church of Christ of those who are separated from it, for in the past they have unhappily left it. To the one true Church of Christ, we say, which is visible to all, and which is to remain, according to the will of its Author, exactly the same as He instituted it. During the lapse of centuries, the mystical Spouse of Christ has never been contaminated, nor can she ever in the future be contaminated, as Cyprian bears witness: "The Bride of Christ cannot be made false to her Spouse: she is incorrupt and modest. She knows but one dwelling, she guards the sanctity of the nuptial chamber chastely and modestly."The same holy Martyr with good reason marveled exceedingly that anyone could believe that "this unity in the Church which arises from a divine foundation, and which is knit together by heavenly sacraments, could be rent and torn asunder by the force of contrary wills." For since the mystical body of Christ, in the same manner as His physical body, is one, compacted and fitly joined together, it were foolish and out of place to say that the mystical body is made up of members which are disunited and scattered abroad: whosoever therefore is not united with the body is no member of it, neither is he in communion with Christ its head. (Pope Pius XI, Mortalium Animos, January 6, 1928.)
Has the counterfeit church of conciliarism and its "popes" and "bishops" kept the the true Faith or have they not contradicted it in stark, unmistakable terms as non-Catholics have been reaffirmed in their false religious sects and beliefs to the point of their very deaths?
Has the countefeit church of conciliarism been faithful to or falsified the Catholic Church's consistent condemnations of the heresy of "religious liberty" that Jorge Mario Bergoglio believes had been denied to the Pentecostalists in Rome? (See the appendix below for yet another recitation of some of these papal condemnations.)
Those who know that Jorge Mario Bergoglio and the "popes" before him have contradicted the Catholic Faith in belief, word and deed yet remain silent as they content themselves within the structures of the false conciliar church as "obedient" to their "pope" stand condemned by the following words of Pope Saint Leo the Great:
But it is vain for them to adopt the name of catholic, as they do not oppose these blasphemies: they must believe them, if they can listen so patiently to such words. (Pope Saint Leo the Great, Epistle XIV, To Anastasius, Bishop of Thessalonica, St. Leo the Great | Letters 1-59 )
Jorge Mario Bergoglio shows us Hell every day by serving as the devil's mouthpiece for false doctrines and false pastoral practices as he refuses to keep silent and insists upon blabbing his heretical thoughts to one interviewer after another, including the atheist Eugenio Scalfari in Interview Number Ten just ten months after giving him an interview in which the false "pontiff" told Scalfari that he was not interested in converting him (see Nothing Random About This, part one, Nothing Random About This, part two, Nothing Random About This, part three, Nothing Random About This, part four, Nothing Random About This, part five.)
It was on July 13, 1917, ninety-seven years ago yesterday, that Our Lady showed Jacinta and Francisco Marto and Lucia dos Santos the place that will be, most unfortunately, the future eternal home of Jorge Mario Begoglio unless he repents of his crimes against the honor and glory and majesty of the Most Blessed Trinity and the eternal and temporal good of the souls redeemed by the shedding of Our Blessed Lord and Saviour Jesus Christ's Most Precious Blood during His Passion and Death on the wood of the Holy Cross, Hell:
"I want you to come here on the 13th of next month, [August] to continue to pray the Rosary every day in honour of Our Lady of the Rosary, in order to obtain peace for the world and the end of the war, because only she can help you."

"Continue to come here every month. In October, I will tell you who I am and what I want, and I will perform a miracle for all to see and believe."

Lucia made some requests for sick people, to which Mary replied that she would cure some but not others, and that all must say the rosary to obtain such graces, before continuing: "Sacrifice yourselves for sinners, and say many times, especially when you make some sacrifice: O Jesus, it is for love of You, for the conversion of sinners, and in reparation for the sins committed against the Immaculate Heart of Mary."

"You have seen hell where the souls of poor sinners go. To save them, God wishes to establish in the world devotion to my Immaculate Heart. If what I say to you is done, many souls will be saved and there will be peace. The war is going to end; but if people do not cease offending God, a worse one will break out during the pontificate of Pius XI. When you see a night illumined by an unknown light, know that this is the great sign given you by God that he is about to punish the world for its crimes, by means of war, famine, and persecutions of the Church and of the Holy Father.

"To prevent this, I shall come to ask for the consecration of Russia to my Immaculate Heart, and the Communion of Reparation on the First Saturdays. If my requests are heeded, Russia will be converted, and there will be peace; if not, she will spread her errors throughout the world, causing wars and persecutions of the Church. The good will be martyred, the Holy Father will have much to suffer, various nations will be annihilated. In the end, my Immaculate Heart will triumph. The Holy Father will consecrate Russia to me and she will be converted, and a period of peace will be granted to the world."

Mary specifically told Lucia not to tell anyone about the secret at this stage, apart from Francisco, before continuing: "When you pray the Rosary, say after each mystery: 'O my Jesus, forgive us, save us from the fire of hell. Lead all souls to heaven, especially those who are most in need.' "

Lucia asked if there was anything more, and after assuring her that there was nothing more, Mary disappeared off into the distance. (Our Lady's Words at Fatima.)
Our Lady promised on July 13 1917, to return to request the consecration of Russia by the Holy Father. She came to visit Sister Lucia in Tuy, Spain, on June 13, 1929, to specify the terms of this consecration:
"The moment has come in which God asks the Holy Father, in union with all the Bishops in the world, to make the consecration of Russia to my Immaculate Heart, promising to save it by this means. There are so many souls whom the Justice of God condemns for sins committed against me, that I have come to ask reparation: sacrifice yourself for this intention and pray." (Our Lady's Words at Fatima.)
As I have noted on this site before, some will protest that the Church never passed on the June 13, 1929, apparition of Our Lady to Sister Lucia in Tuy, Spain, believing that the terms of the proper consecration of Russia were spelled out in the July 13, 1917 apparition, which terms were fulfilled, they believe, when Pope Pius XII singly consecrated Russia to Our Lady's Immaculate Heart in 1952. Others, however, believe, as I do, that Our Lady came in 1929 to make the specific request for the consecration of Russia to her Immaculate Heart by a pope with all of the world's bishops. As was pointed out in Our Lady Does Not Act on Her Own, the Church never ruled on Our Lady's December 10, 1925, apparition to Sister Lucia dos Santos wherein she specified the practice of the Five First Saturdays to be kept in reparation for sins against her Sorrowful and Immaculate Heart:
Have compassion on the heart of your most holy Mother, covered with thorns with which ungrateful men pierce it at every moment, and there is no one to make an act of reparation. Look, my daughter, at my heart, surrounded with thorns with which ungrateful men pierce it at every moment by their blasphemies and ingratitude. You at least try to console me and say that I promise to assist at the hour of death, with the graces necessary for salvation, all those who, on the first Saturday of five consecutive months, shall confess, receive Holy Communion, recite five decades of the Rosary, and keep me company for fifteen minutes while meditating on fifteen mysteries of the Rosary, with the intention of making reparation to me." (Our Lady's Words at Fatima.)
The Church has given, at least in a de facto sense, recognition to this private apparition made in 1925, making it plausible, at the very least, that the 1929 apparition of Our Lady to Sister Lucia in the convent at Tuy, Spain, in which Our Lady called for the collegial consecration of Russia by a pope with all of the world's bishops to be an elaboration on that same July 13, 1917, message in the Cova da Iria in which she first called for the Communions of reparation on the First Saturdays and called for the consecration of Russia to her Immaculate Heart by the pope.
Although even some who accept the legitimacy of the 1929 apparition contend that the time for such a collegial consecration has passed, noting correctly that World War II could have been prevented by such a collegial consecration, Sister Lucia continued to insist that the collegial consecration needed to be done. With all due respect to those who do not accept these conclusions, I would like to submit that the state of the world-at-large and that of the Church Militant on earth during this time of apostasy and betrayal is a direct chastisement for the fact that Popes Pius XI and XII were advised badly to refrain from consecrating Russia collegially with all of the world's bishops to the Sorrowful and Immaculate Heart of Mary.
We must, therefore, bear the cross with joy and gratitude in this time of chastisement, recognizing that the errors of Modernity in the world and those of Modernism in the counterfeit church of conciliarism are intertwined with each other as but similar manifestations of the errors of Russia (see Conversion of Russia Update). We have much to suffer for our own sins. We must suffer well as we place not our trust in the princes of naturalism in this world or the princes of false "reconciliation" and "dialogue" with false religions in the counterfeit church of conciliarism. We must place our trust in the Immaculate Heart of Mary as we give this heart, out which the Most Sacred Heart of Jesus was formed, all of the sufferings of the present moment so that she can present whatever merit we earn from patiently and lovingly enduring them to the Throne of the Most Blessed Trinity.
We must fear sin, the only real evil. We must fear going to the place where Bergoglio and other revolutionaries are headed absent their own conversion to the true Faith and their public abjuration of their apostate beliefs, words and deeds, Hell, which our own sins have so often deserved. That's why we must fear, not the lords of Modernity in the world or the lords of Modernism in the counterfeit church of conciliarism.
What matters most to us is to gain Heaven by refusing any concessions to the madness of Modernity in the world and Modernism in the counterfeit church of conciliarism.
Saint Bonaventure, whose feast we celebrate today, July 14, 2014, was a firm defender of the Catholic Faith, a contemporary and friend and co-worker of Saint Thomas Aquinas. A son of Saint Francis of Assisi, Saint Bonaventure is, along with Saint Anthony of Padua, the seraphic saint's most brilliant followers, and one of  the most profound defenders of the doctrine of the Most Holy Eucharist. Although exceptionally brilliant and one of Holy Mother Church's most gifted theologians and teachers, Saint Bonaventure was more than anything a champion of humility rooted in a deep love of the Most Blessed Trinity and of the Blessed Virgin Mary. And he was a master of the Scholasticism for which Joseph Ratzinger/Benedict XVI and his fellow "new theologians" have such profound contempt.
May we, by imitating Saint Bonaventure's profound Eucharistic piety and tender devotion to Our Lady, storm Heaven by means of our Rosaries so that the darkness of the current crisis will pass sooner rather than later, conscious always of our need to make reparation to the Most Sacred Heart of Jesus through the Sorrowful and Immaculate Heart of Mary for our own many sins.
Immaculate Heart of Mary, pray for us now and the hour of our death.  Amen.
Isn't it time to pray a Rosary now?
Viva Cristo Rey! Vivat Christus Rex!
Our Lady of Sorrows, pray for us.
Saint Joseph, pray for us.
Saints Peter and Paul, pray for us.
Saint John the Baptist, pray for us.
Saint John the Evangelist, pray for us.
Saint Michael the Archangel, pray for us.
Saint Gabriel the Archangel, pray for us.
Saint Raphael the Archangel, pray for us.
Saints Joachim and Anne, pray for us.
Saints Caspar, Melchior, and Balthasar, pray for us.
Saint Bonaventure, pray for us.
Appendix
Papal Condemnations of Religious Liberty
"Man should use his reason first of all to recognize his Sovereign Maker, honoring Him and admiring Him, and submitting his entire person to Him. For, from his childhood, he should be submissive to those who are superior to him in age; he should be governed and instructed by their lessons, order his life according to their laws of reason, society and religion. This inflated equality and liberty, therefore, are for him, from the moment he is born, no more than imaginary dreams and senseless words." (Pope Pius VI, Brief Quod aliquantum, March 10, 1791; Religious Liberty, a "Monstrous Right").
The Catholic Church: For how can We tolerate with equanimity that the Catholic religion, which France received in the first ages of the Church, which was confirmed in that very kingdom by the blood of so many most valiant martyrs, which by far the greatest part of the French race professes, and indeed bravely and constantly defended even among the most grave adversities and persecutions and dangers of recent years, and which, finally, that very dynasty to which the designated king belongs both professes and has defended with much zeal - that this Catholic, this most holy religion, We say, should not only not be declared to be the only one in the whole of France supported by the bulwark of the laws and by the authority of the Government, but should even, in the very restoration of the monarchy, be entirely passed over? But a much more grave, and indeed very bitter, sorrow increased in Our heart - a sorrow by which We confess that We were crushed, overwhelmed and torn in two - from the twenty-second article of the constitution in which We saw, not only that "liberty of religion and of conscience" (to use the same words found in the article) were permitted by the force of the constitution, but also that assistance and patronage were promised both to this liberty and also to the ministers of these different forms of "religion". There is certainly no need of many words, in addressing you, to make you fully recognize by how lethal a wound the Catholic religion in France is struck by this article. For when the liberty of all "religions" is indiscriminately asserted, by this very fact truth is confounded with error and the holy and immaculate Spouse of Christ, the Church, outside of which there can be no salvation, is set on a par with the sects of heretics and with Judaic perfidy itself. For when favour and patronage is promised even to the sects of heretics and their ministers, not only their persons, but also their very errors, are tolerated and fostered: a system of errors in which is contained that fatal and never sufficiently to be deplored HERESY which, as St. Augustine says (de Haeresibus, no.72), "asserts that all heretics proceed correctly and tell the truth: which is so absurd that it seems incredible to me." (Pope Pius VII, Post Tam Diuturnas, April 29, 1814, POST TAM DIUTURNAS)
"This shameful font of indifferentism gives rise to that absurd and erroneous proposition which claims that liberty of conscience must be maintained for everyone. It spreads ruin in sacred and civil affairs, though some repeat over and over again with the greatest impudence that some advantage accrues to religion from it. "But the death of the soul is worse than freedom of error," as Augustine was wont to say. When all restraints are removed by which men are kept on the narrow path of truth, their nature, which is already inclined to evil, propels them to ruin. Then truly "the bottomless pit" is open from which John saw smoke ascending which obscured the sun, and out of which locusts flew forth to devastate the earth. Thence comes transformation of minds, corruption of youths, contempt of sacred things and holy laws -- in other words, a pestilence more deadly to the state than any other. Experience shows, even from earliest times, that cities renowned for wealth, dominion, and glory perished as a result of this single evil, namely immoderate freedom of opinion, license of free speech, and desire for novelty.
Here We must include that harmful and never sufficiently denounced freedom to publish any writings whatever and disseminate them to the people, which some dare to demand and promote with so great a clamor. We are horrified to see what monstrous doctrines and prodigious errors are disseminated far and wide in countless books, pamphlets, and other writings which, though small in weight, are very great in malice. We are in tears at the abuse which proceeds from them over the face of the earth. Some are so carried away that they contentiously assert that the flock of errors arising from them is sufficiently compensated by the publication of some book which defends religion and truth. Every law condemns deliberately doing evil simply because there is some hope that good may result. Is there any sane man who would say poison ought to be distributed, sold publicly, stored, and even drunk because some antidote is available and those who use it may be snatched from death again and again? (Pope Gregory XVI, Mirari Vos, August 15, 1832.)
For you well know, venerable brethren, that at this time men are found not a few who, applying to civil society the impious and absurd principle of "naturalism," as they call it, dare to teach that "the best constitution of public society and (also) civil progress altogether require that human society be conducted and governed without regard being had to religion any more than if it did not exist; or, at least, without any distinction being made between the true religion and false ones." And, against the doctrine of Scripture, of the Church, and of the Holy Fathers, they do not hesitate to assert that "that is the best condition of civil society, in which no duty is recognized, as attached to the civil power, of restraining by enacted penalties, offenders against the Catholic religion, except so far as public peace may require." From which totally false idea of social government they do not fear to foster that erroneous opinion, most fatal in its effects on the Catholic Church and the salvation of souls, called by Our Predecessor, Gregory XVI, an "insanity," viz., that "liberty of conscience and worship is each man's personal right, which ought to be legally proclaimed and asserted in every rightly constituted society; and that a right resides in the citizens to an absolute liberty, which should be restrained by no authority whether ecclesiastical or civil, whereby they may be able openly and publicly to manifest and declare any of their ideas whatever, either by word of mouth, by the press, or in any other way." But, while they rashly affirm this, they do not think and consider that they are preaching "liberty of perdition;" and that "if human arguments are always allowed free room for discussion, there will never be wanting men who will dare to resist truth, and to trust in the flowing speech of human wisdom; whereas we know, from the very teaching of our Lord Jesus Christ, how carefully Christian faith and wisdom should avoid this most injurious babbling." (Pope Pius IX, Quanta Cura, December 8, 1864.)